Hello!
The Mablab has been very busy these past couple of weeks. We're just now catching our breath briefly before heading to the Greater Everglades Ecosystem Restoration Conference (GEER) from April 22 till 25. It's taken time but we've finally collected our stats and pictures for the BioBlitz at Quiet Waters Park on March 30, 2019. It was a great day, with great weather, and a good showing of people. So far we've tallied 172 species in the park, with a few more taxa left to count, 160 of these were new additions to the park on iNaturalist (check the BioBlitz page on iNaturalist). This project is in concert with UF/IFAS Extension Broward County.
This year we modified the structure a bit thanks to great comments from last year's participants. With those changes we opted to join the Bird and Reptile groups together. We also added a new Invasive Task Force event, where our volunteers with the help of park staff identified and removed invasive plants across the park.
Heres what our schedule looked like:
7 a.m.-9:00 a.m.: Focus on birds and reptiles
9 a.m.–12 p.m.: Invasive task force
10 a.m.-12 p.m.: Mapping
12 p.m.–1:30 p.m.: Lunch and learn
1:30 p.m.–3:30 p.m.: Focus on butterflies
3:30 p.m.–5–30 p.m.: Focus on insects
5:30 p.m.–7:30 p.m.: Focus on birds and reptiles
7:30 p.m.–9:30 p.m.: Night group (Nocturnal Birds, reptiles, and bats)
Alright enough of that, lets get to the good stuff!
Morning
Birds and Reptiles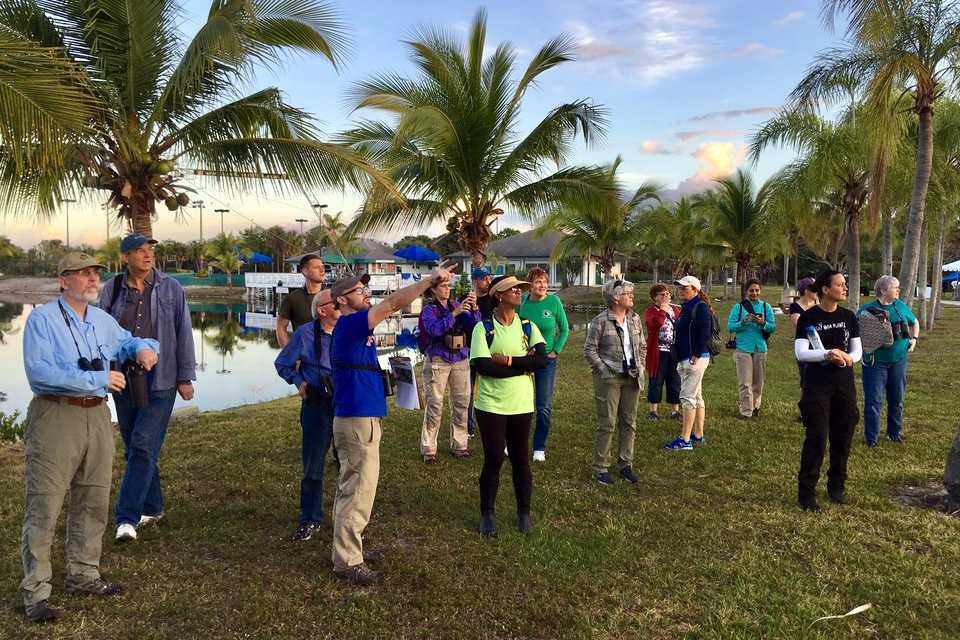 Our great morning group
The morning had some of our biggest turnouts (of peoples and animals). Our joint bird and reptile group gathered over 20 people to brave the early morning hours. I was helped by Sid Godfrey, a researcher from the Croc Docs (Frank Mazzotti's lab at the University of Florida).
Quiet Waters Park is a reclaimed limestone quarry that is being restored thanks to the great staff at the Broward County Parks. The resulting habitat is a mixture of various ponds, upland, grassland, and wetland. With the park largely open water, many waterbirds call the park home. A couple of these birds gave us good looks including Anhingas, Brown Pelicans, and Tricolored Herons stretching their wings in the morning light. As we moved towards the wetland edges, we found nesting birds ready for breeding season, this included Northern Mockingbirds building a nest and a Blue Jay sitting on a nest! While showing off these birds, I got to field great questions about ecology, biodiversity, and natural history. This really was a great group of very interested people.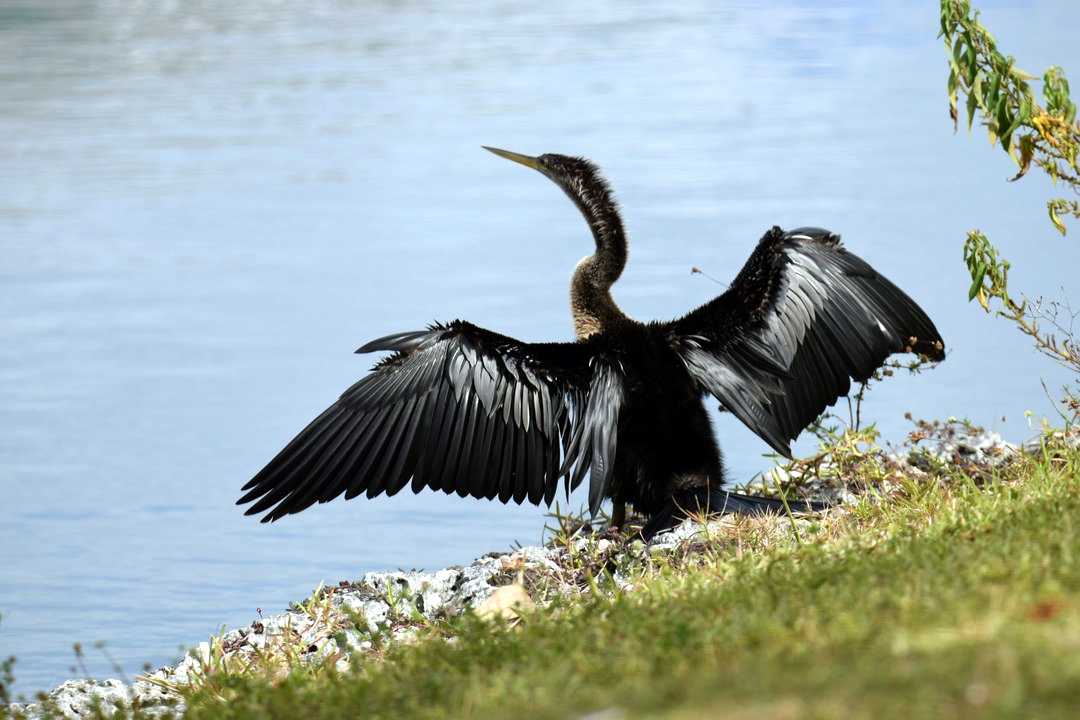 An Anhinga sunning itself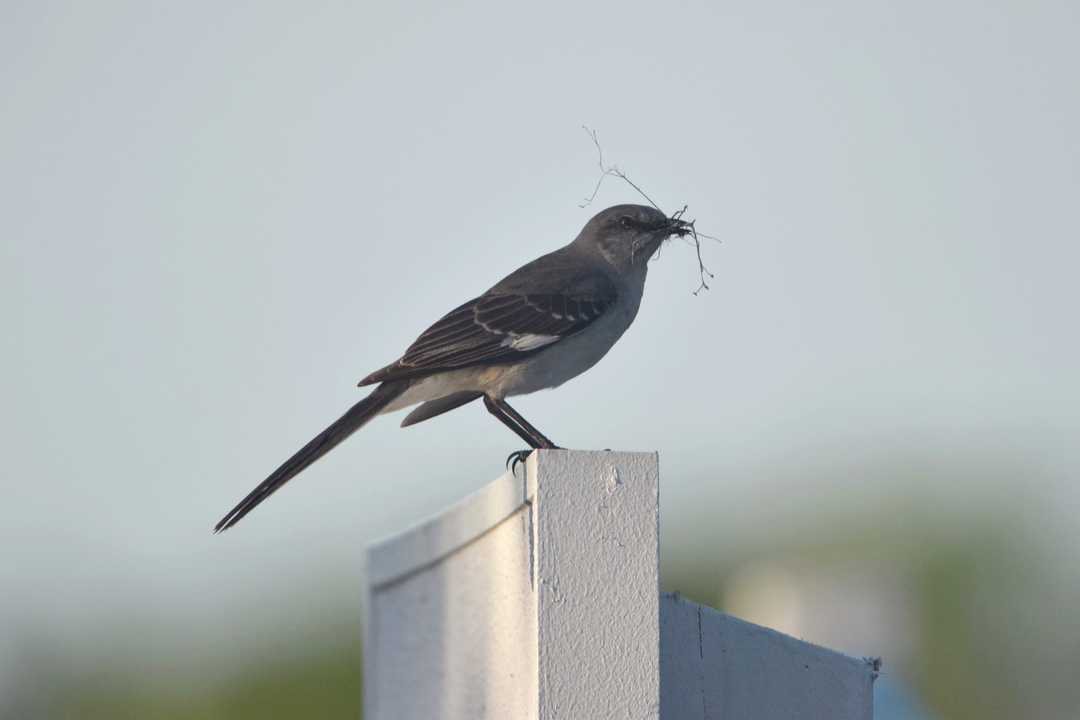 Northern Mockingbird bringing nesting material into its nest
Later in the morning, after many people had headed to the next event, a few of us split off to the newly planted pineland/upland area. Our best find was definitely a Ring-Necked Snake, these beautiful but tiny snakes are gorgeous and always a treat to find in Florida. Right near it, we also found a Knight Anole out sunning along the trail.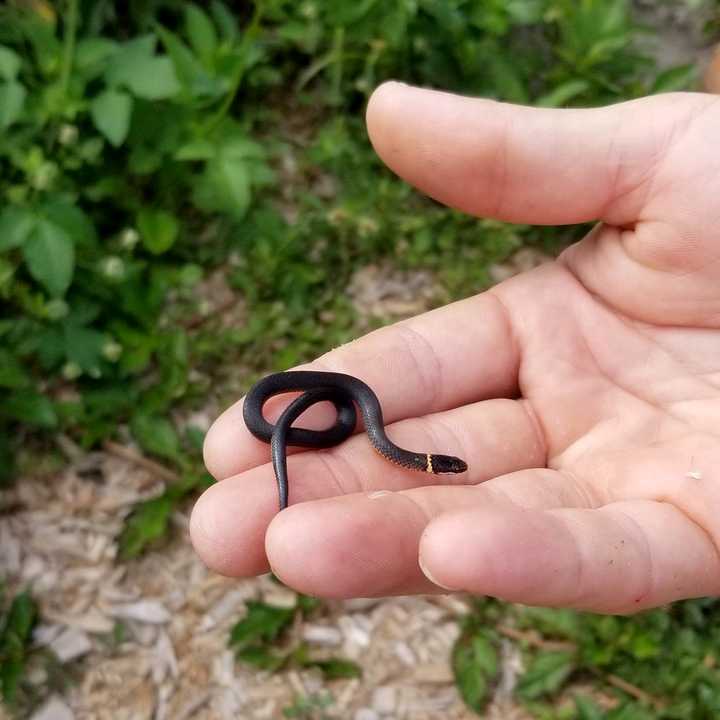 A gorgeous Ring-necked Snake found by Sid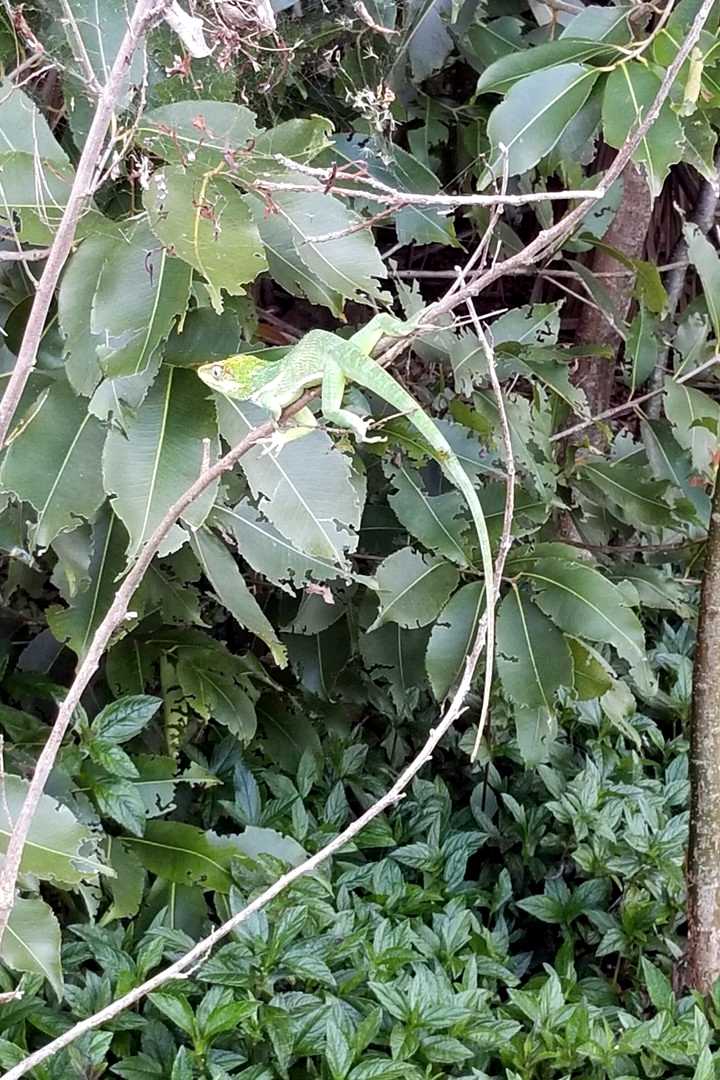 Invasive Knight Anole
After 10 a.m., as the other groups began, Sid and I headed to the bike trails on the west side and managed to find a River Otter on the back wetlands. This was a very surprising and unique find, as river otters are good indicators of a healthy water way. The location makes sense, as the pond was the most natural pond in the park. As lunch approached we'd already tallied 45 bird species and numerous reptiles!
Invasive species task force
Led be park staff, as well as Lorna Bravo and Julio Perez from UF IFAS/Broward County Extension, our team of volunteers armored in gloves, hats, and bandannas, pulled pounds upon pounds of very invasive plants. We quickly filled our buckets amassing 31 containers full of invasive plants. Each of them being 55 gallons large, that's 1,705 gallons of invasive plantes removed! It was a great help to the park and a great learning opportunity for everyone about how bad and uncontrollable invasive species can be here in Florida. We want to thank everyone who could come and help with this very important event. Many of these volunteers were part of the Master Gardener program training program, and we really appreciate their hard work.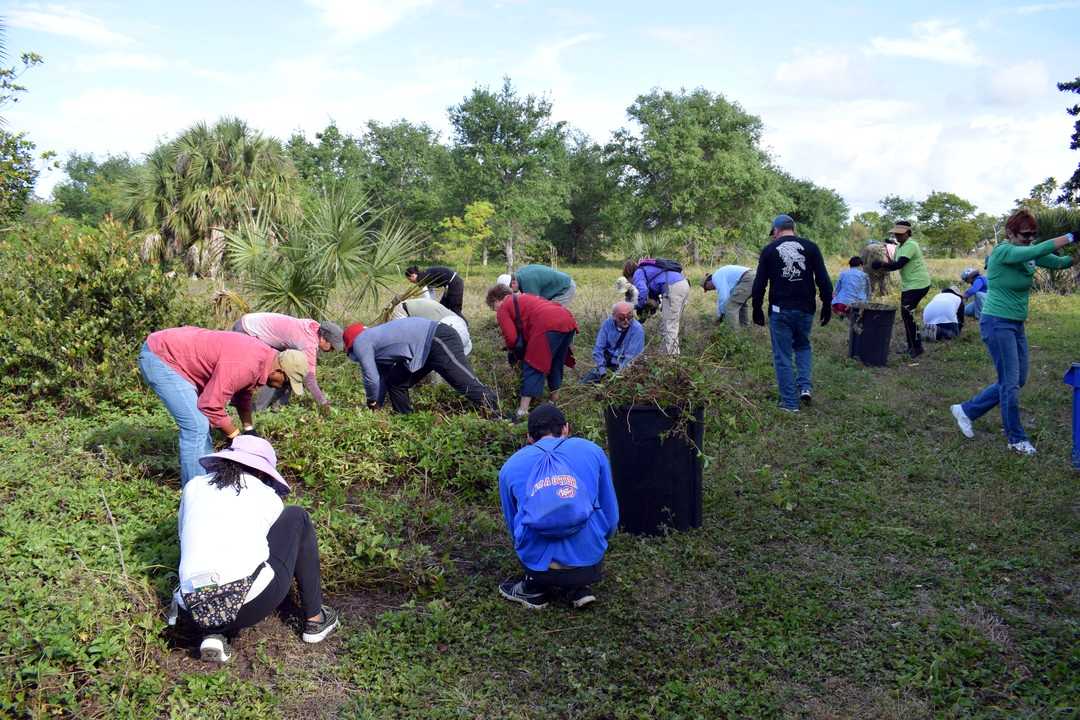 Our great invasive species task force hard at work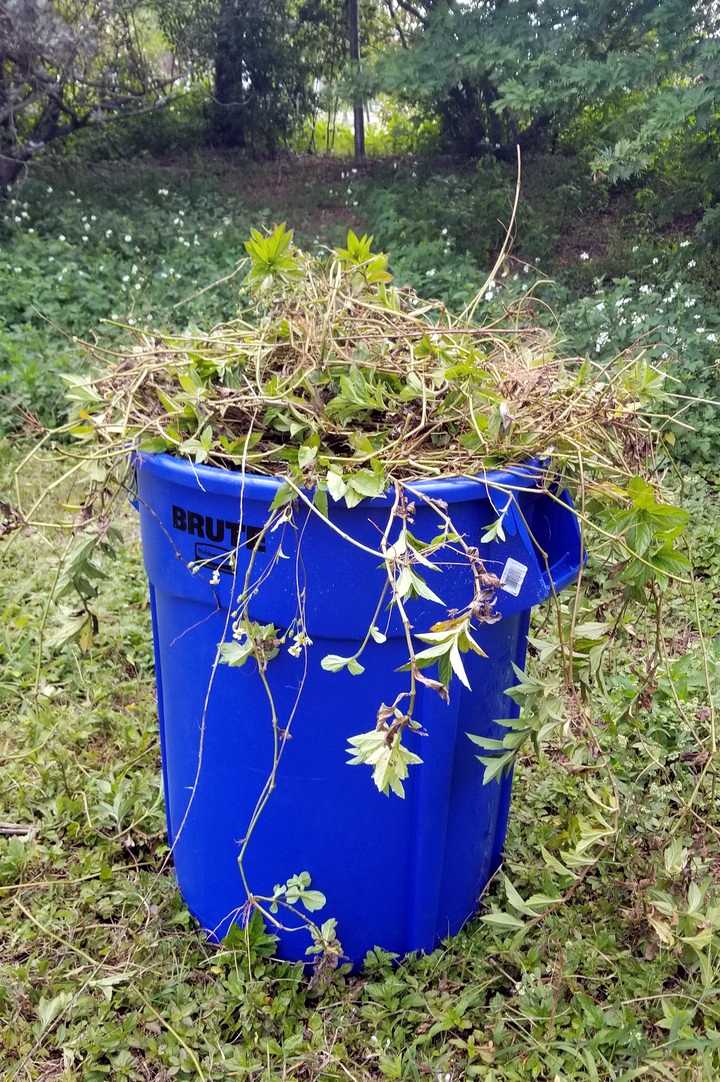 Our group gathered 31 containers of Creeping Oxeye
Mid-day
Lunch and Learn
For lunch we decided to host a new event called the Lunch and Learn. With the help of a food vendor that offered delicious burgers and hot dogs, we gathered a tent full of volunteers and helpers. We asked everyone to write questions on a piece of paper for our biologists and experts, and then read them aloud one by one. Our panel of experts included me (Matt Boone — Data Manager and Biologist), Dr. Mathieu Basille (Mablab's fearless leader), Sid Godfrey (Researcher and technician for the Croc Docs at UF), Adam Pitcher (Urban Horticulturist from Broward Extension), De-fen Mou (PhD student in Entomology at UF), as well as the park Naturalists Erick Espana and Doug Young. Together we fielded many great questions including "What are good bio-indicator species?", "Invasive Species of Florida and what to do about them?", and "Why are outdoor cats bad for wildlife?". It was a lot of fun to do, and I think people really got something out of it. We hope to do this again at our future BioBlitzes!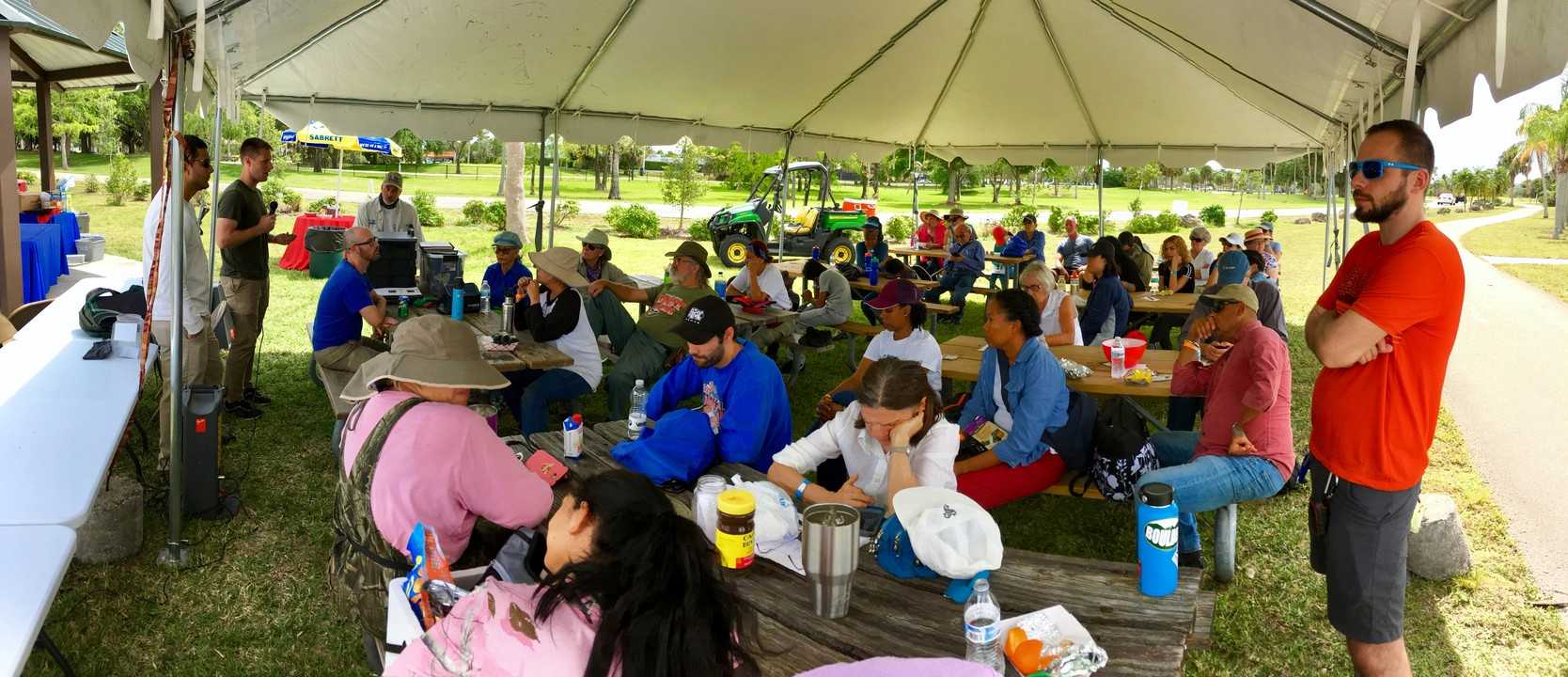 Lunch and Learn where everyone got to ask questions to our experts!
Butterflies and Insects
The butterfly field group led, by Barbara DeWitt and Peggy Strumski, successfully found at least 17 species of butterflies and moths in the park. This kind of diversity is important because it shows how crucial all kinds of natural spaces can be to wildlife. Many of these butterflies were likely migrating north for the summer! Our most populous butterflies were the Barred Yellow and the Mallow Scrub Hairstreak.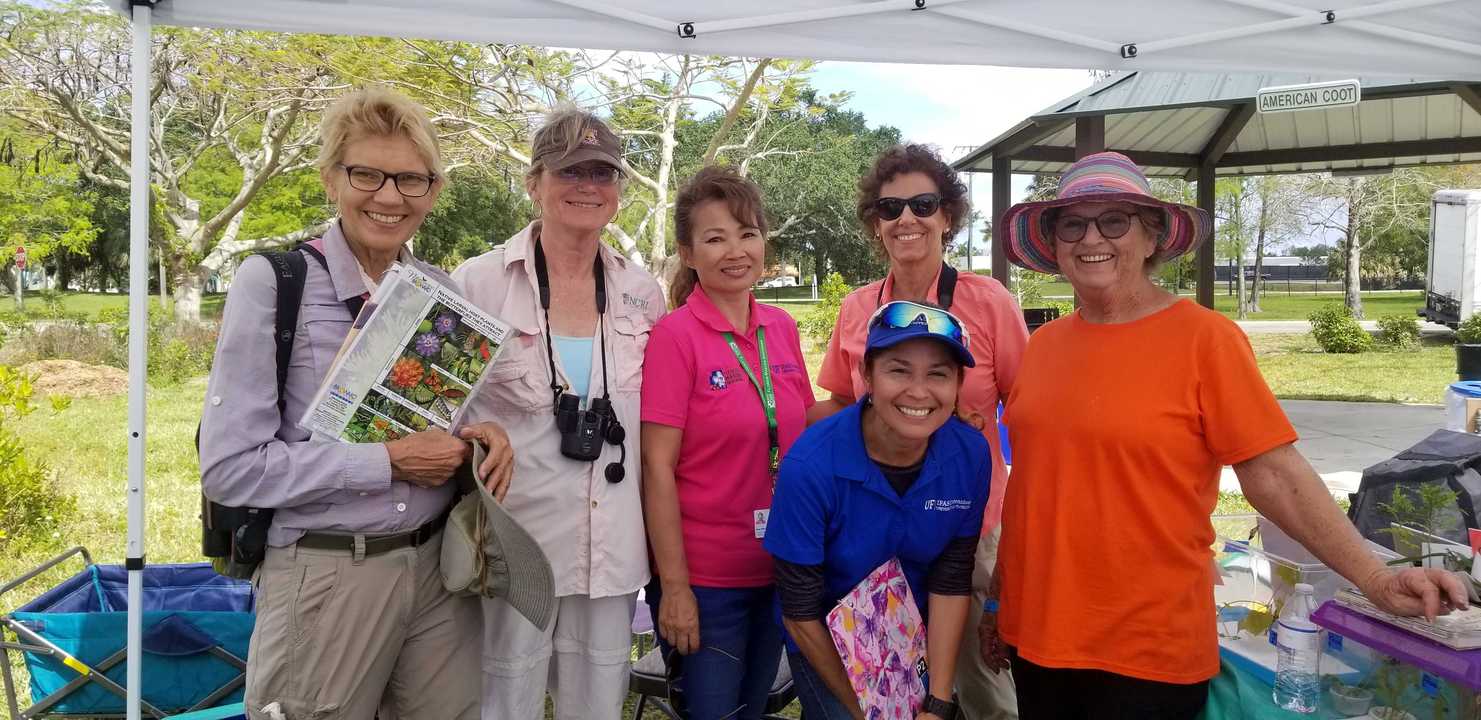 Our great group of Butterfly experts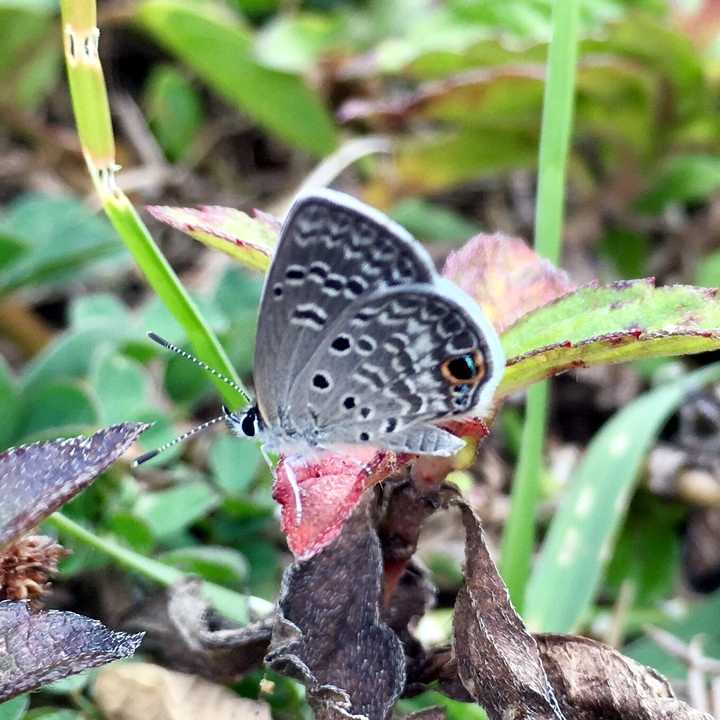 A beautiful Mallow-scrub Hairstreak
Our best find of the day was a few Monarch Butterflys foraging throughout the park. South Florida contains a unique sub population of Monarchs that winter in South Florida and breed in the northern United States. Scientists around the country help study their movements by placing small markers on their wings. Anyone who finds these tagged Monarch again can report them find and help map where these monarchs spend their summer and winters.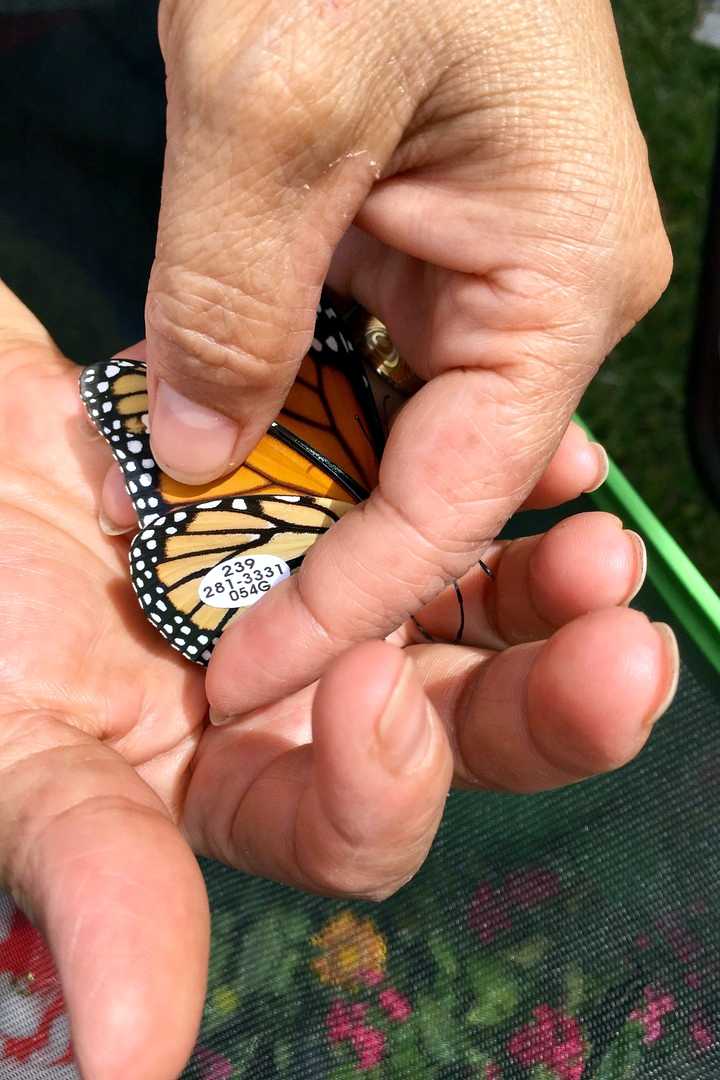 Researchers place these tags on butterflies to help track them
A unique addition to this bioblitz was the inclusion of a butterfly booth at our welcome tent run by Lorna Bravo, Amy Snider, and Amy Rielly. Their goal was to share examples of full butterfly life cycles to the public, share Florida native butterfly host plants, and educate the public on the importance of adding butterfly host plants and nectar plants in our Broward backyard with their unique message " If you plant them they will come".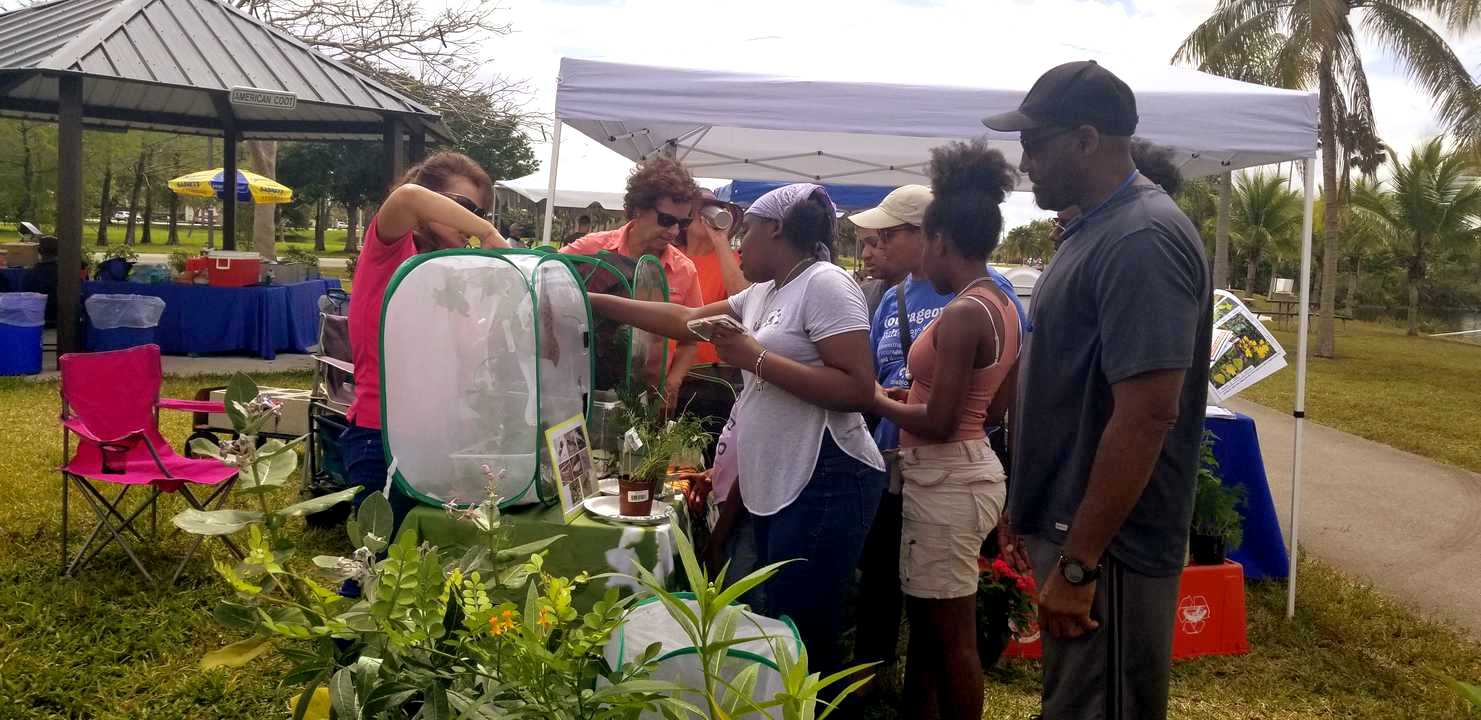 The butterfly booth in full swing
The insect group armed with bug nets and led by De-fen Mou, Lidia Komondy and Noemi Soto (graduate students in Entomology at the University of Florida) scoured the grassy edges in search for as many insects as they could. They were rewarded with many different taxa. One of the most interesting was finding this group of Thorn Treehoppers congregating together on a branch. Their vibrant colors were really stunning. This likely long-time Florida invasive species feasts on the branches of plants and has been recorded in Florida for over 70 years. So long that its hard to tell when it first established in South Florida.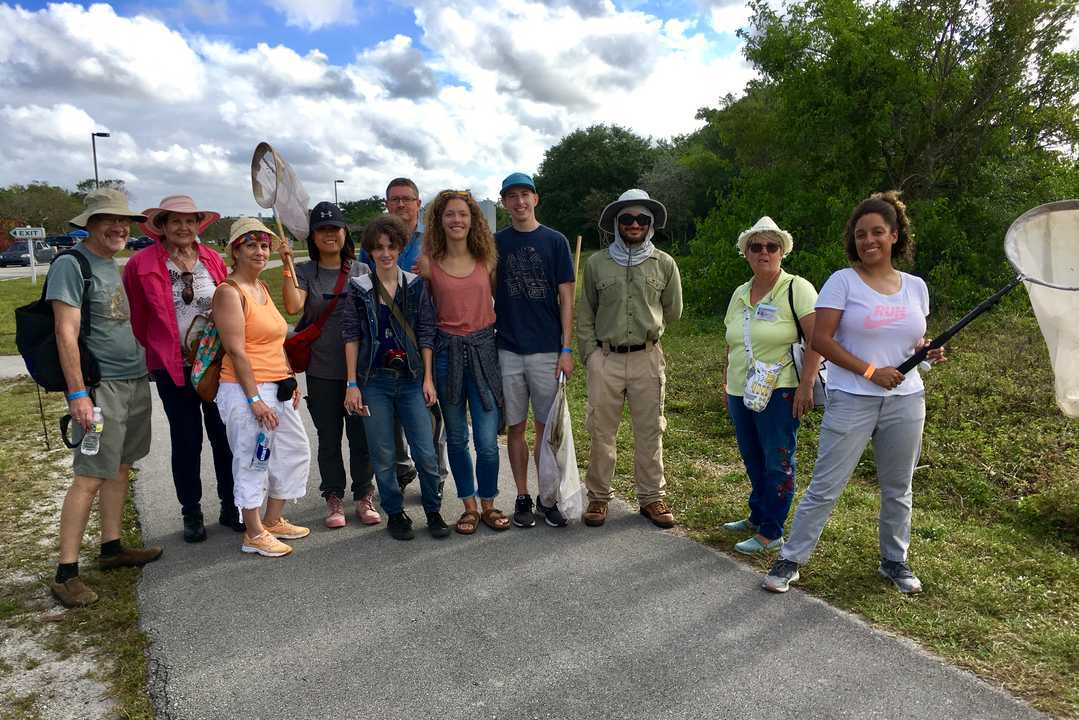 Our great group of insect hunters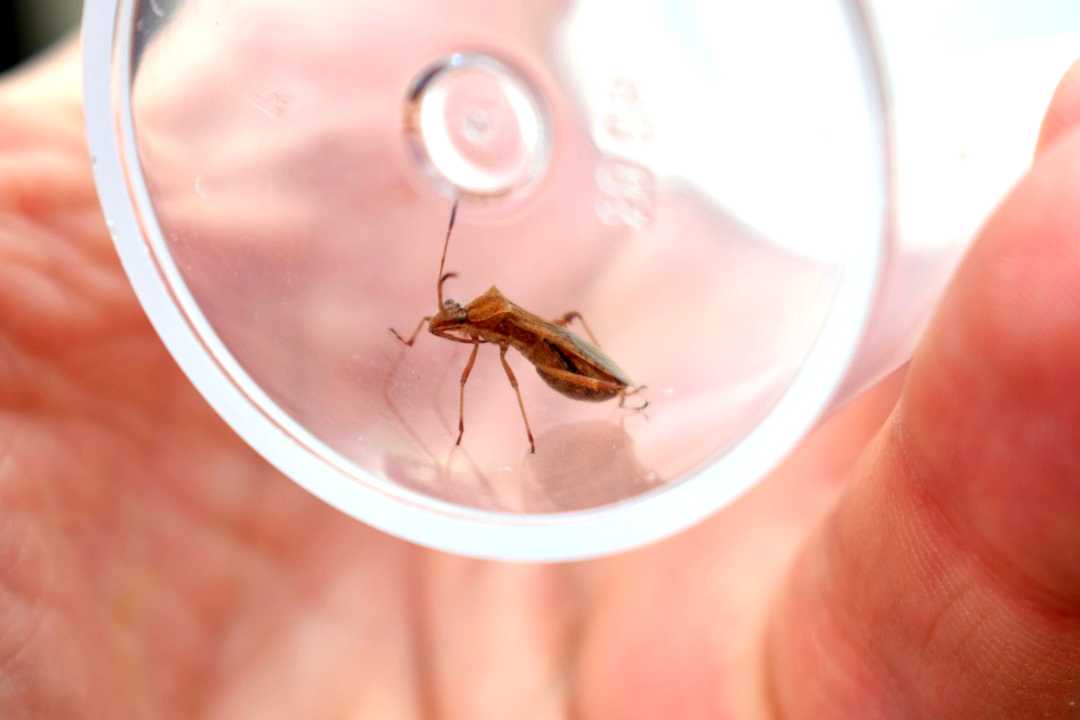 Broadheaded Bug specimen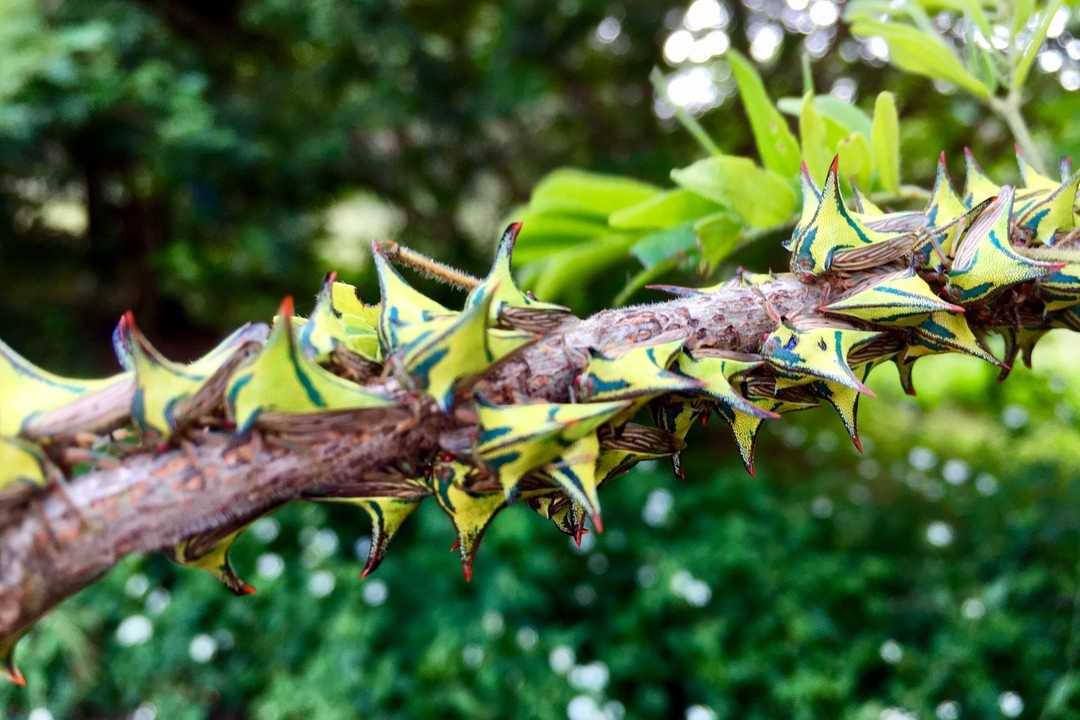 A gaggle of Thorn Treehoppers delighted us with their colors
Evening
Birds and Reptiles
The last bioblitz at Tree Tops park, our evening session saw a large increase in Reptiles and poor showing of birds. This year we were lucky enough to have good showings of all species! We had plenty of help from students and researchers from the Croc Docs. Never afraid to get their hands dirty they managed to rustle South Eastern Five-Lined Skink and a first year Green Iguana. It was good to opportunity to see these animals up close.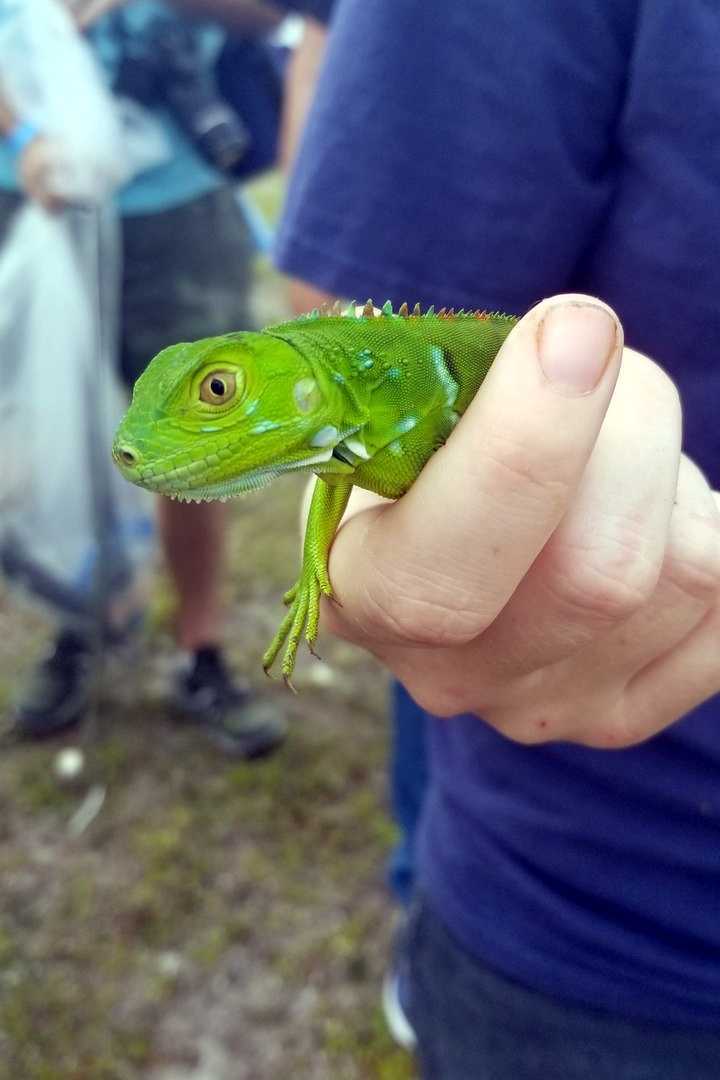 The Croc Docs snagged this young Green Iguana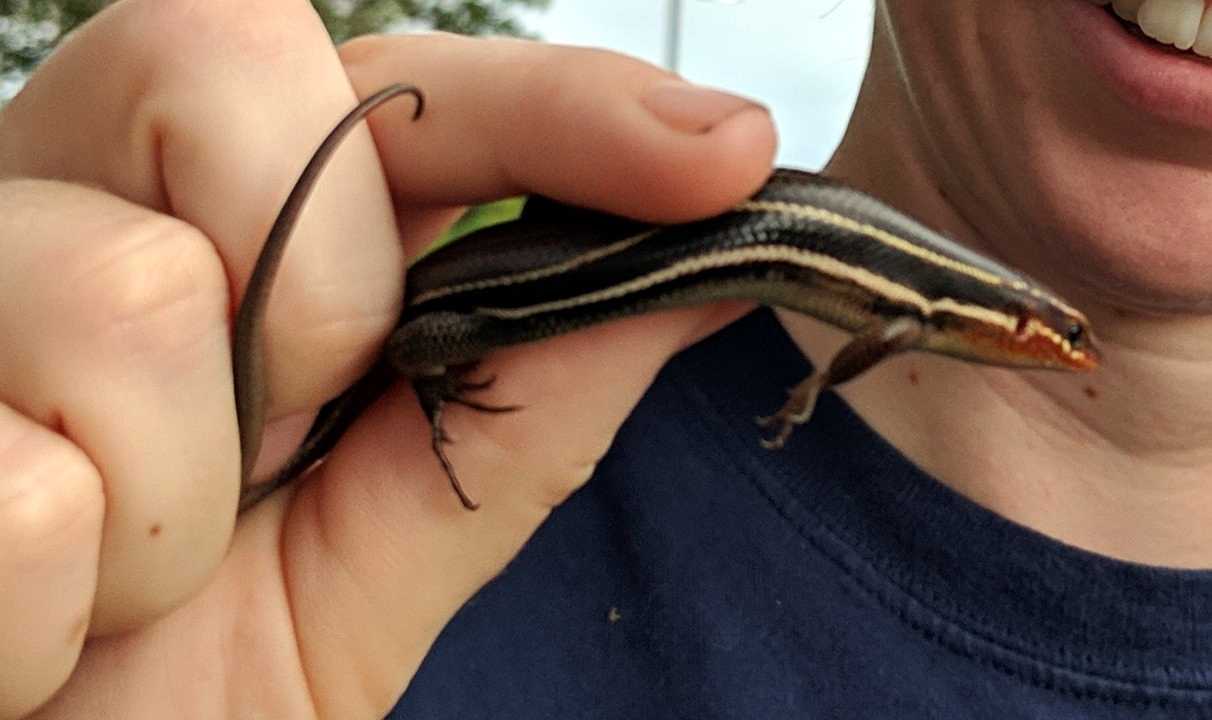 A South Eastern Five-lined Skink was a nice find in the evening
The evening walk got good looks at a number of new birds, including a nesting Loggerhead Shrike, the tiny but fearsome predator, as well as a beautiful Green Heron foraging in the reeds. Right after the walk, while walking to my car to grab water, I managed to see a Peregrine Falcon flying over the welcome booth. This majestic bird of prey was likely looking for an easy dinner on the water.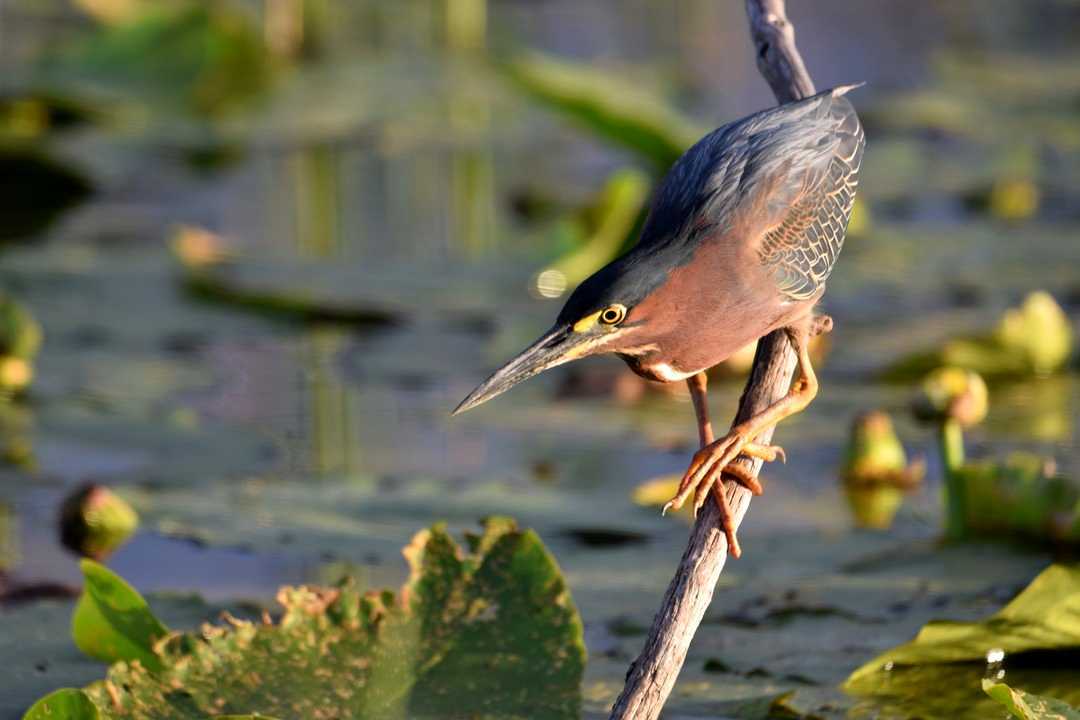 Green Heron posing for us as it foraged in the reeds
Night time hike.
This new addition to our bioblitz was an interesting and casual foray into the park at night. The night is always interesting because you never know what you'll find. For this walk we made the long hike along the bike trails on the far end west end of the park. As expected, as soon as the sun came down we found our common but invasive Cuban Tree Frogs and geckos. Mammals enjoyed the night time as well, and we were able to get our only sightings of Common Racoon, Opposum, and Marsh Rabbit.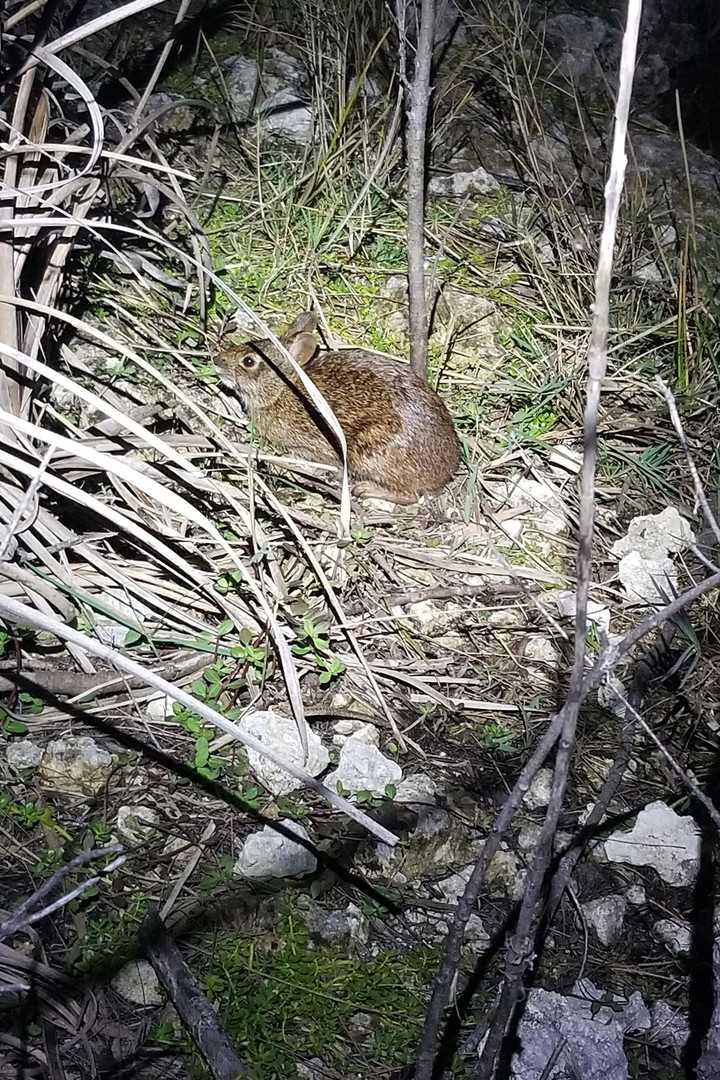 A cute Marsh Rabbit came out to say hello
A new collaboration for the BioBlitz, this year we teamed up with Gisele Colbert, scientist from Smart-Sciences, Inc., to set out so called "Bat Boxes", acoustic detectors for bats. Right before sundown we placed two ultrasonic recording devices near the waters edge. A few scientists also began recording bat calls on their phones using a neat ultrasonic adapter and the Wildlife Acoustics mobile app. We got a lot of hits of bats, and are hoping to get back results from the acoustic recorders soon. So stay tuned it should be a lot of fun to learn!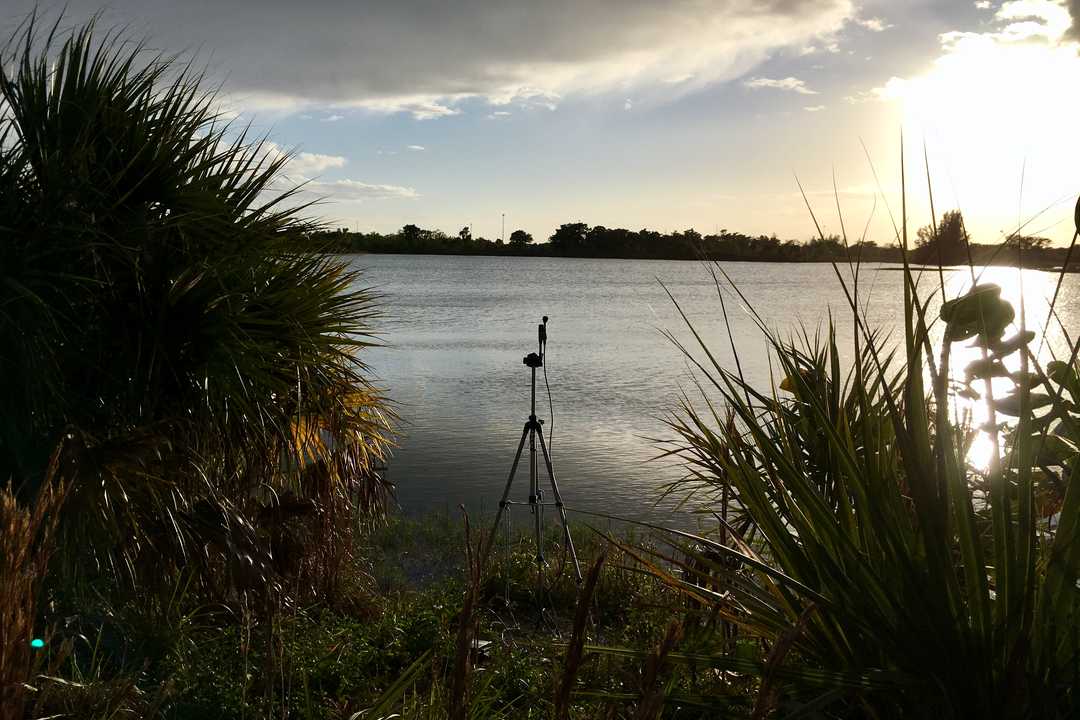 These Bat Boxes record ultrasong bat calls throughout the night
On our way back from bike trails, we had perhaps our most exciting citing of the BioBlitz. While I played owl calls in the more forested area of the park, I never got any response. Little did we know we had been standing next to a pair all day. As we approached the basketball courts, I spied a Eastern Screech Owl entering a hole in a light pole. Sure enough we had a likely nesting pair of owls! These amazing owls gave us quite a show. Nesting within such close proximity to people really shows their resilience even in the heavily augmented landscape of Broward County. These troopers are going strong and weren't too bothered by our presence as we got plenty of great pictures!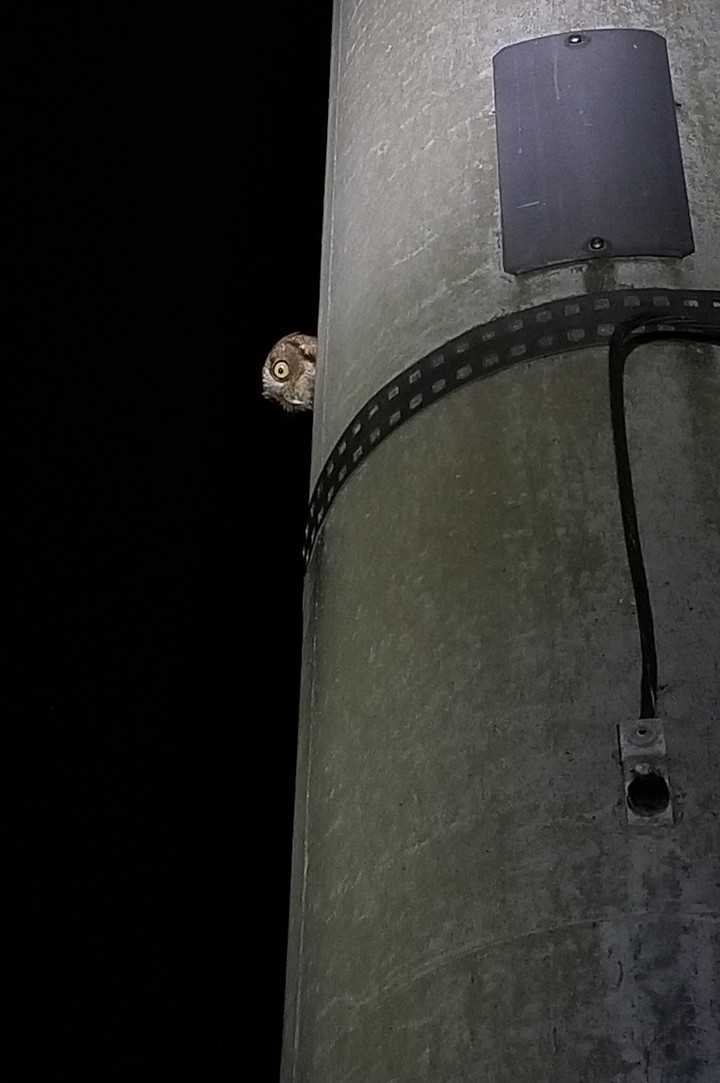 Eastern Screech-Owl poking its head out of a light pole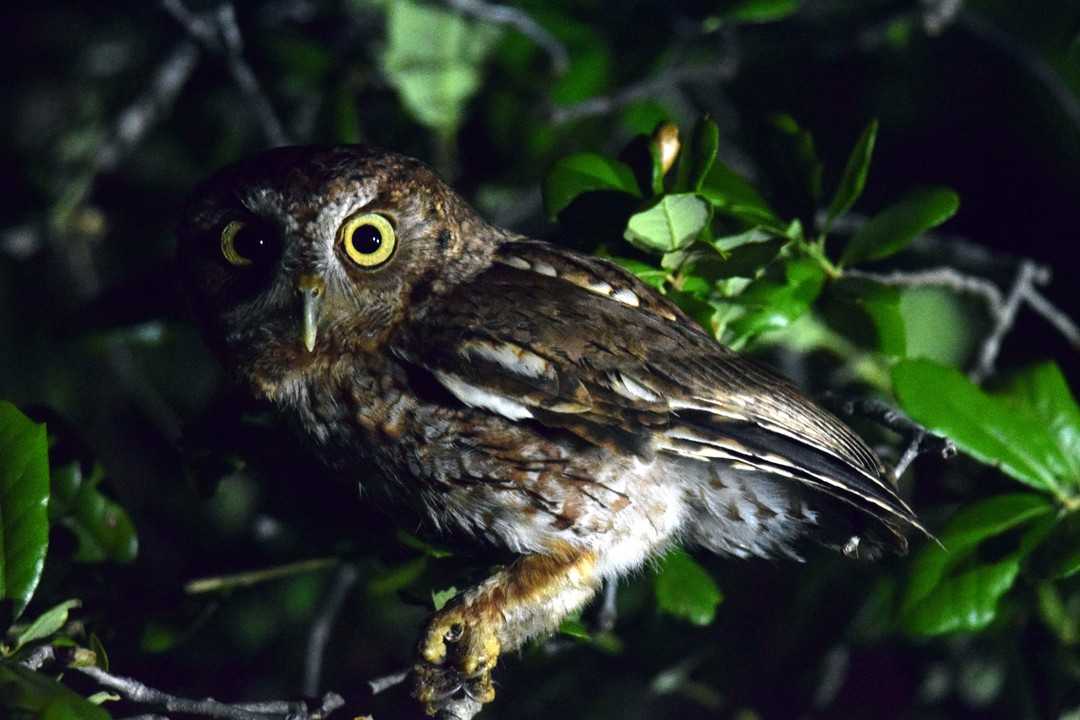 This Eastern Screech-Owl was definitely the highlight of the BioBlitz
From sun up to way past sun down, this BioBlitz gave us plenty of surprises and some great oppurtunities to interact with interested people. We're so glad we get the opportunity to continue these programs in Broward County, and hope to keep improving these events in the future. It really is an important way to get people out in nature and show them the importance that even these urban parks can contribute to biodiversity.
See you at the next one!