Hello!
As many of you know, this past Saturday we ran our first BioBlitz at Tree Tops Park in Broward County. This is the first of many in our Broward County BioBlitz series, in conjunction with UF/IFAS Extension Education Broward County. The inaugural event was a great success, and the MabLab is just now crawling out from the hole of post-BioBlitz to dos. I personally have been compiling groups checklists, uploading photos to iNaturalist, and editing photos. The all-day event was quite exhausting but was a lot of fun for all who attended. We had a large army of volunteers helping lead walks and identify specimens, and many eager citizens and families come out to explore the park with us.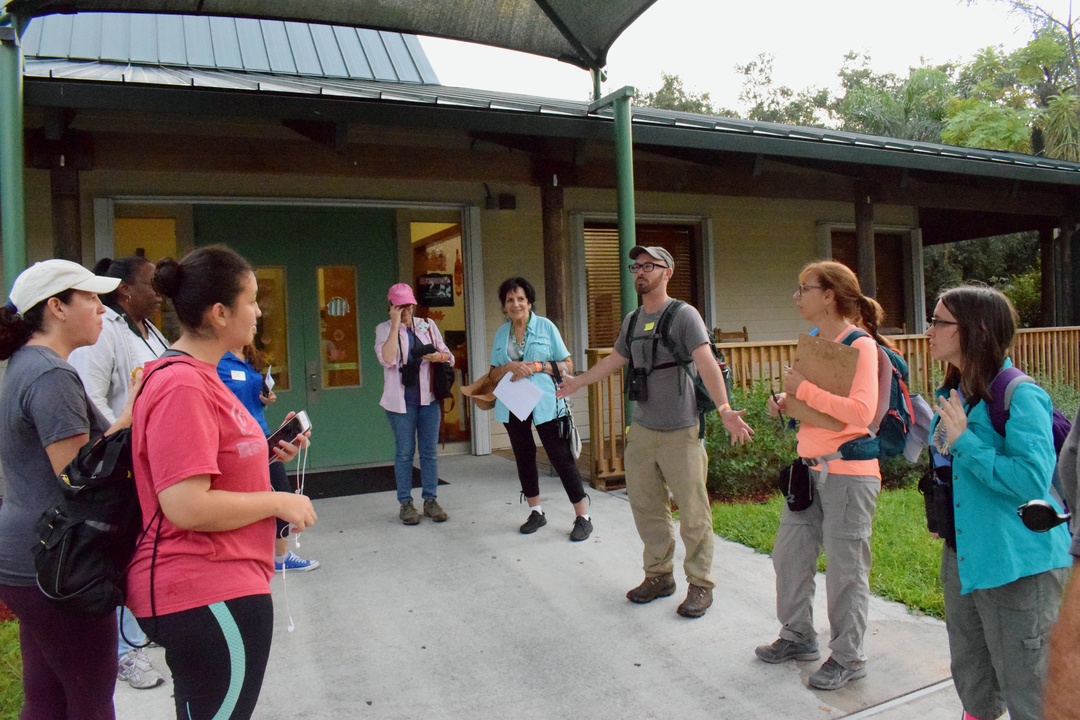 Matt introducing himself to the morning bird walk volunteers.
Photo credit: Simona Picardi
As of today, we managed to log 278 observations on iNaturalist (from 15 observers), nearly tripling the current amount of observations in the park. This culminated in 140 species found in the park, adding 50 new species to the park on iNaturalist (100 to 150). This really increased the local knowledge of biodiversity in the area and will contribute to future studies on wildlife in South Florida! You can check out our live results on iNaturalist here. Here's a recap of the day.
The Morning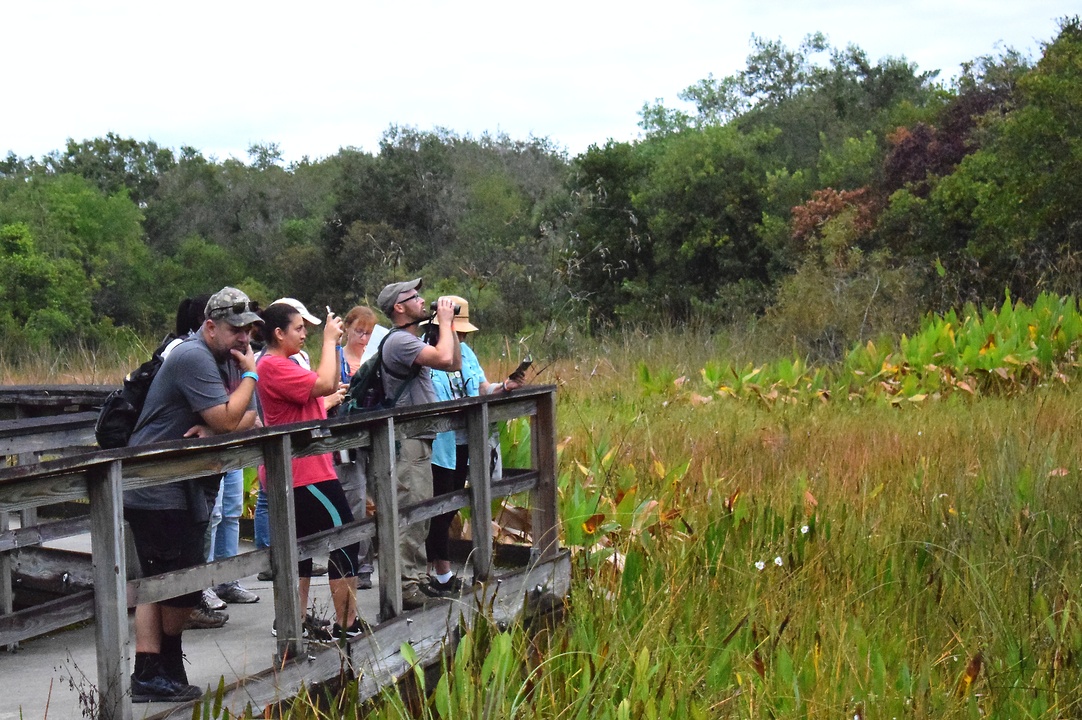 Matt teaching the group about birds along the boardwalk at Tree Tops Park. Photo credit: Simona Picardi
The morning was very dreary but managed to only lightly rain on us. The bird walk was jam packed with volunteers and citizens. Despite the dreariness we managed to count 25 species of birds before an early morning drizzle. Our field group found some very cooperative Green Herons, a Tri-Colored Heron, and a basking Brown Watersnake at the boardwalk.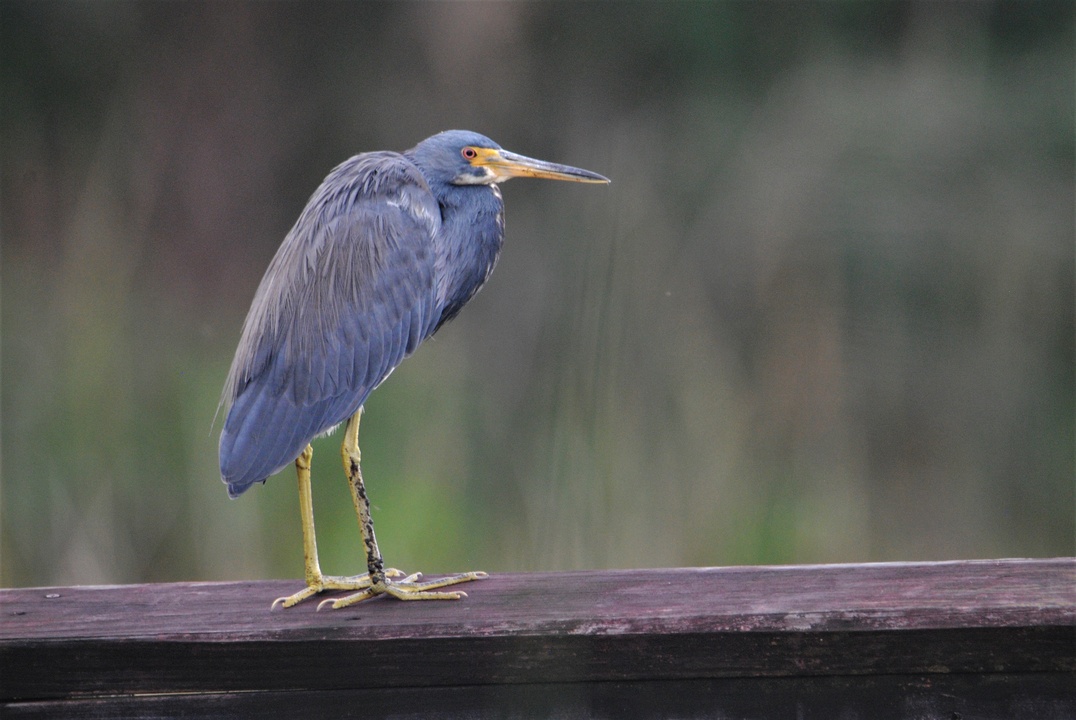 A cooperative Tri-colored Heron posed for us on the boardwalk.
Photo credit: Simona Picardi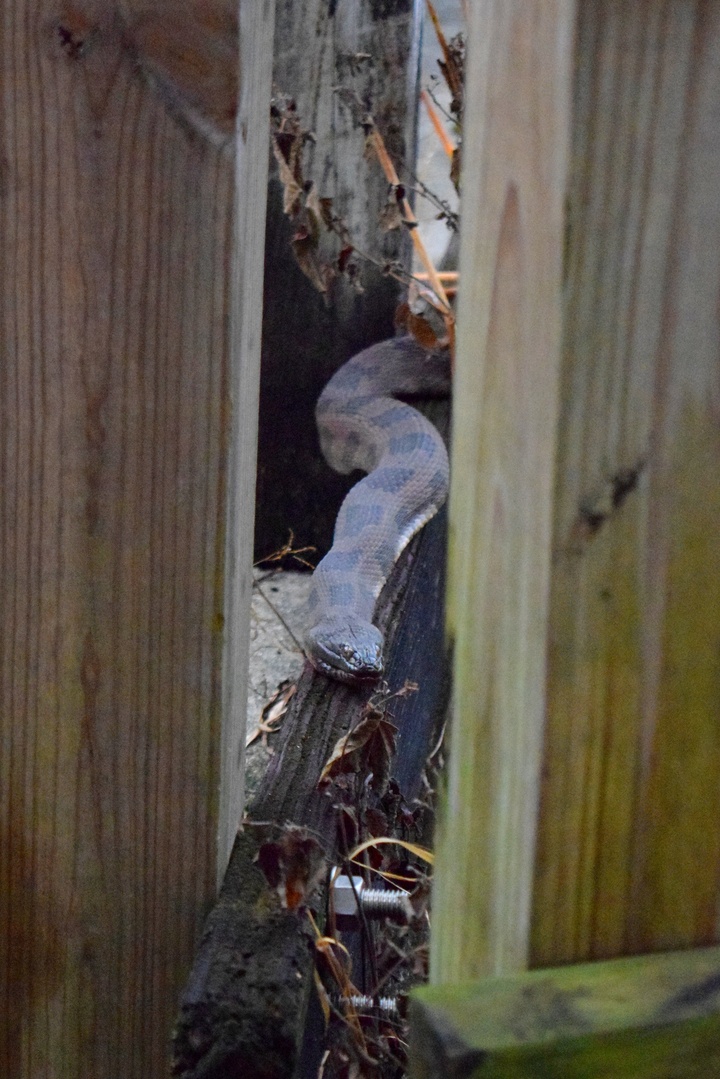 A basking Brown Watersnake was the highlight of the morning.
Photo credit: Simona Picardi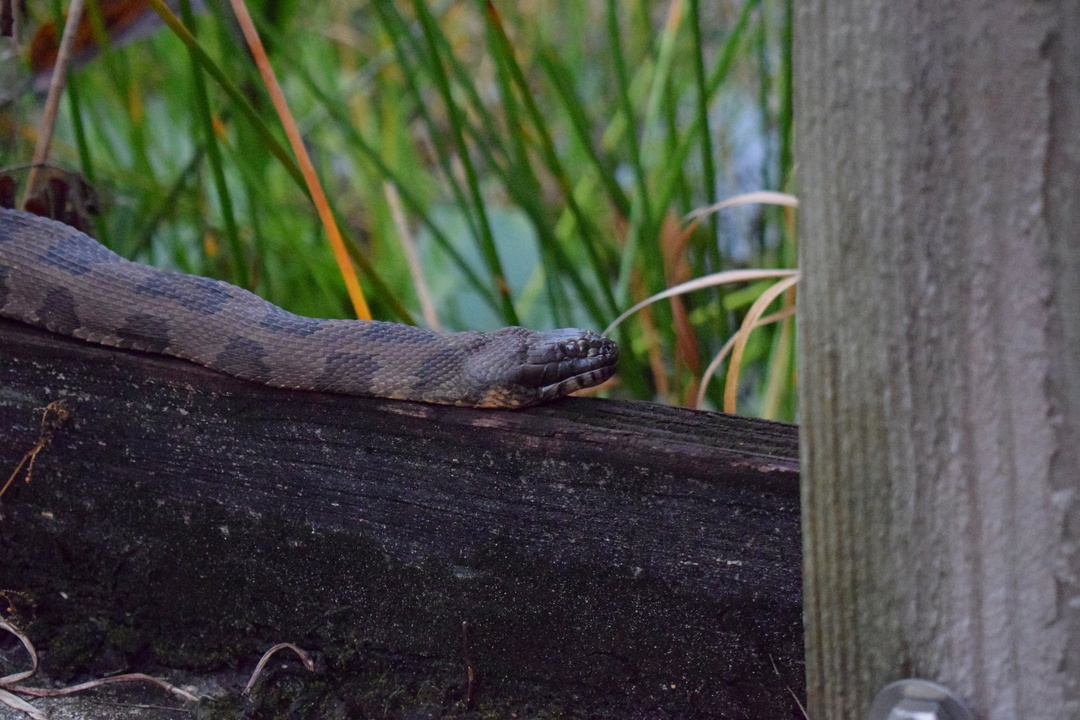 A basking Brown Watersnake was the highlight of the morning.
Photo credit: Simona Picardi
Once the bird walk was done, I managed to find an additional 10 species (35 total) wandering around the unexplored horse trails in the park. Highlights included a surprise Nashville Warbler and female Ruby-Throated Hummingbrid. Nashville Warblers are very uncommon in Broward County, but have seen an increase in activity in South Florida this fall. As expected we also managed to find an active pair of Burrowing Owls along the road. These silly owls are very tolerant of human activity, perching very near to a big children's birthday party.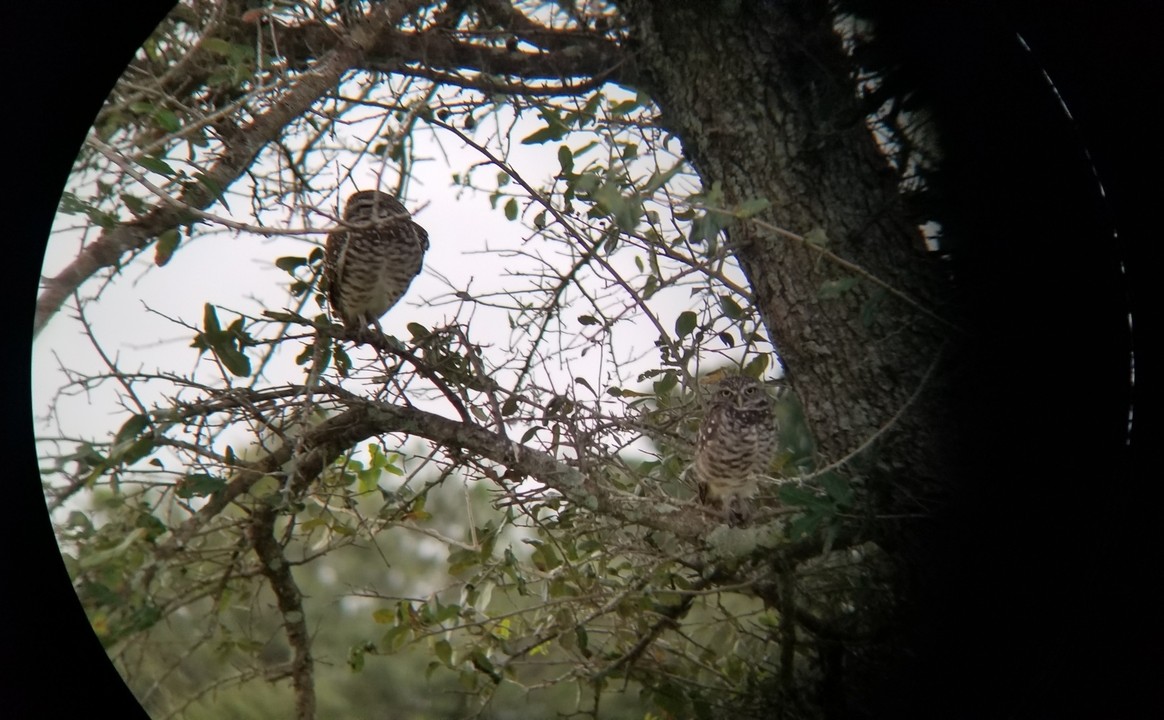 A pair of Burrowing Owls forage over their burrow near the main road.
Photo credit: Matt Boone
The morning reptile walk through the sandy upland horse trails was slow, likely due to the weather, but managed to photograph many active Brown Anoles.
Late-morning
The late morning sessions was highlighted by mapping excursions throughout the park. Lead by Dr. Levente Juhasz at UF/IFAS Fort Lauderdale Research and Education Center, teams wandered around the park logging trails and taking georeferenced pictures. These tracks and pictures were then used to update OpenStreetMap, and greatly improved the trail and amenities map around the park. The entirety of the horse trails is now mapped and publicly available including the west end around the boardwalk and pond as well as the many cross trails in the northeast corner of the park. We greatly appreciate the efforts by intrepid explorers during this section who logged 27 miles of tracks throughout the day!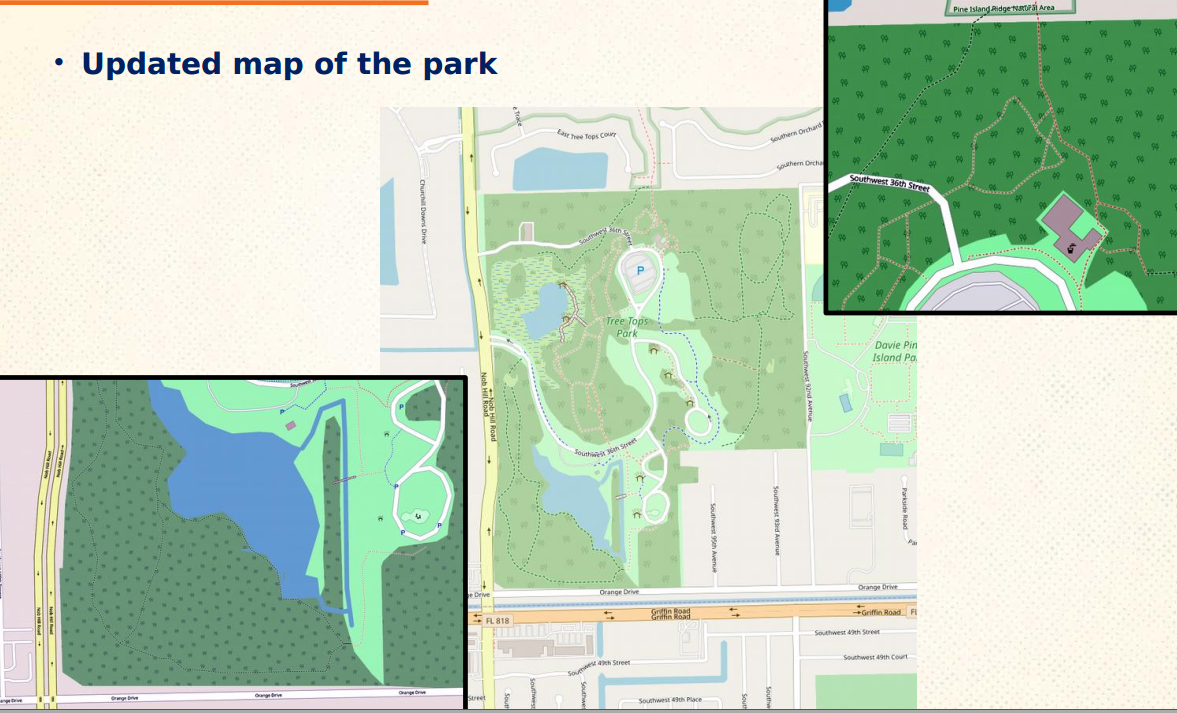 Our efforts mapping added new trails and features to Tree Tops Park on openstreetmaps.org
Afternoon
The afternoon was highlighted by the insect and butterfly walks. We had many families join for the fun, and the kids really stole the show. Children got to catch butterflies and hold insects while our team of experts helped identify insects and talk about nature of South Florida. We managed to log at least 11 species of butterflies/moths on iNaturalist and 4 species of dragonfly in the park! This was definitely a highlight for many, and I heard many people talk to me personally about how great of a time the insect walks were, under the lead of Dr. Bill Kern, also at UF/IFAS Fort Lauderdale Research and Education Center. These walks will continue to be an integral part of any future BioBlitzes!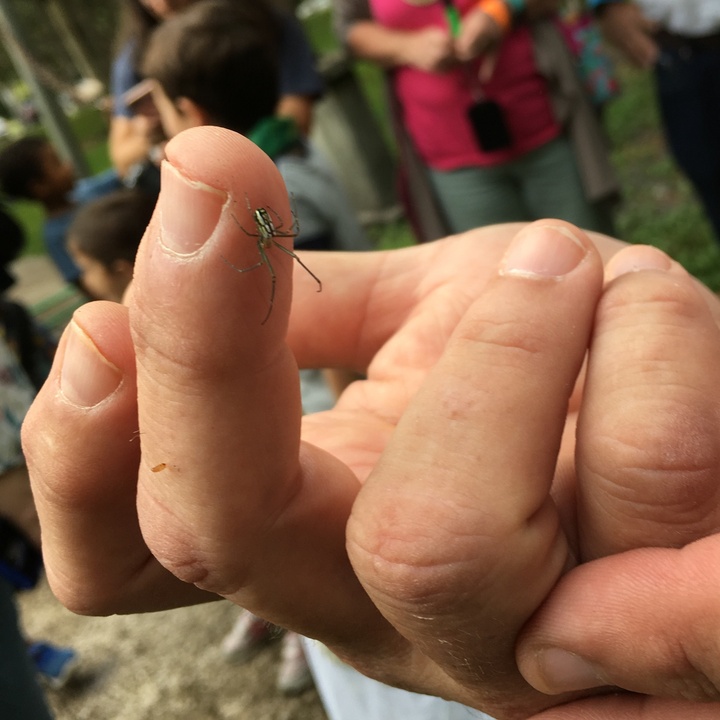 Participants got to hold insects, like this Argyra Orchard Orbweaver.
Photo credit: Mathieu Basille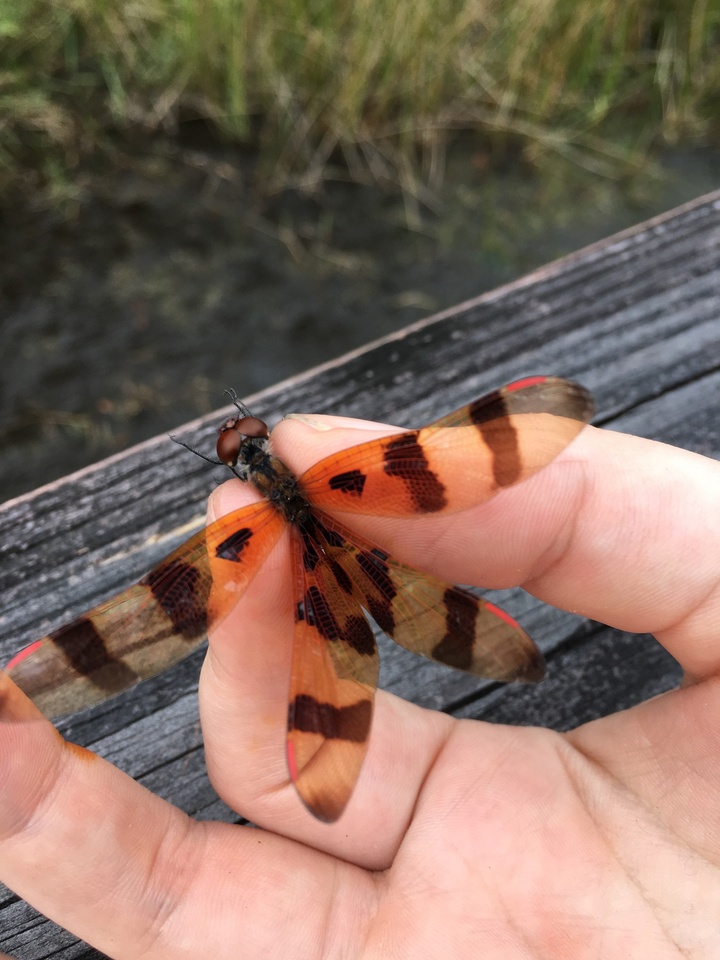 The boardwalk hosted many species of dragonflies like this Halloween Penant.
Photo credit: Mathieu Basille
Evening
The evening walks added many species that couldn't be logged in the morning. The bird walk was very quiet, but we managed to call in two Eastern-Screech Owls after dark. There's likely numerous pairs around the park and are a definite treat for anyone sticking around the park after dark. The reptile walk was the big hit of the evening with many citizens and volunteers learning about reptiles from Sid Godfrey from Dr. Frank Mazzotti's "CrocDocs" lab at UF/IFAS. Four species of turtles were found in the marsh, including a native Florida Softshell. As soon as darkness hit, multiple individual Banded Watersnakes and Brown Watersnakes appeared in the marsh. The kids were the first ones to spot many of these fascinating nightwalkers.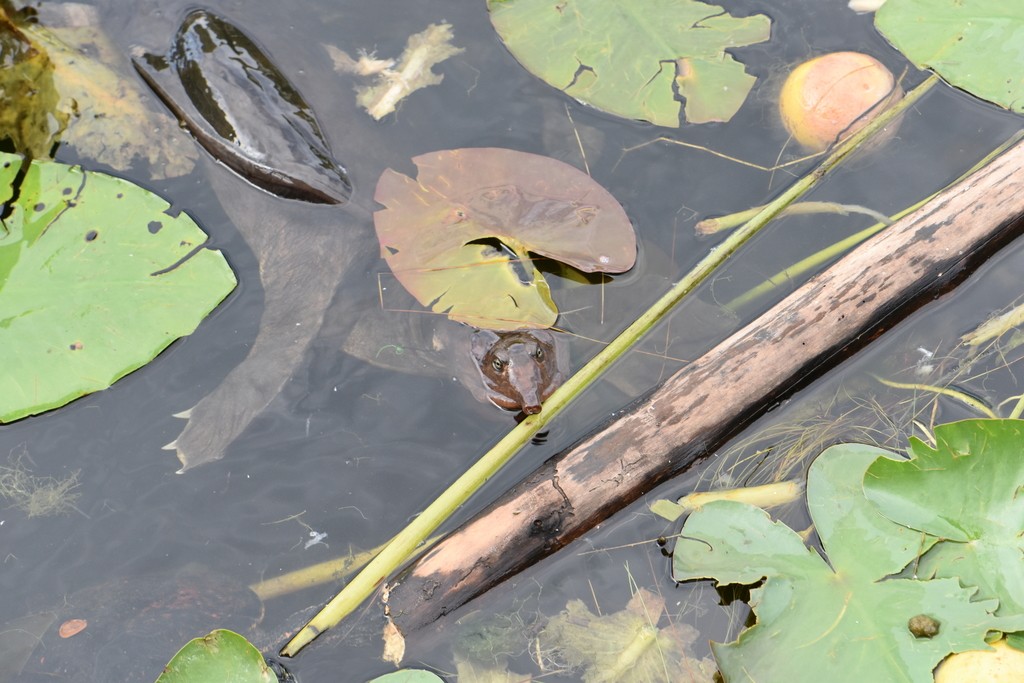 A very tame Florida Softshell greeted everyone on the morning and evening walks. Photo credit: Michiko Squires (CC)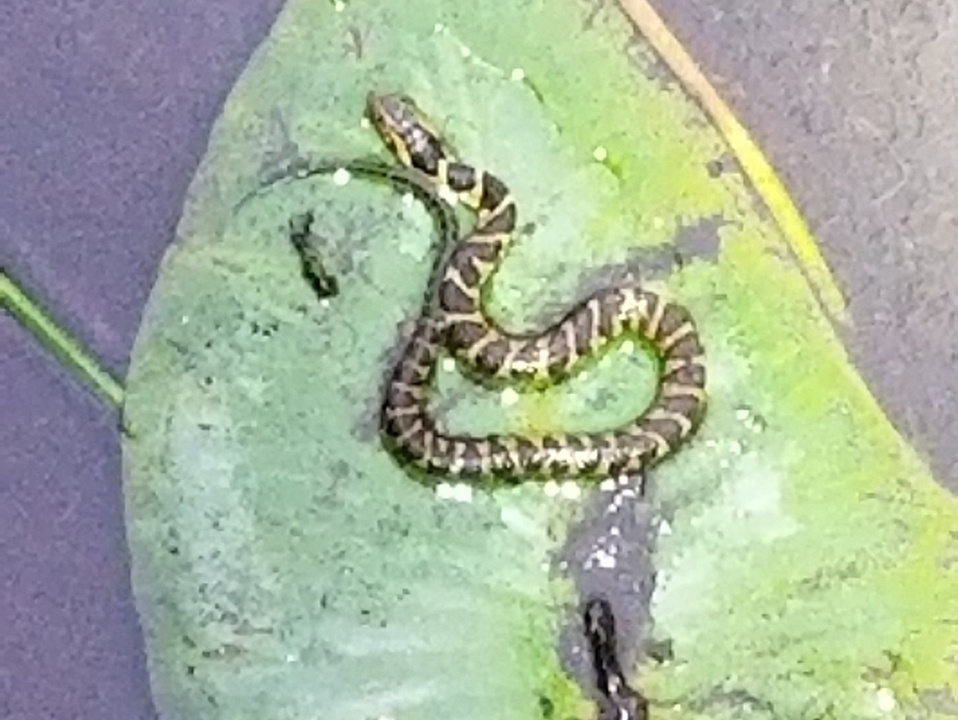 Multiple Florida Banded and Brown Watersnakes came out along the marsh at dusk. Photo credit: Michiko Squires (CC)
While walking back through the forest many of the invasive nocturnal reptiles and amphibians came out to join the show. The kids got to see invasive Tokay Geckos, Cuban Treefrogs, Greenhouse Frogs, and Cane Toads. These invasive invaders are unfortunate normal sightings throughout South Florida that out compete (and even eat) the native fauna of South Florida.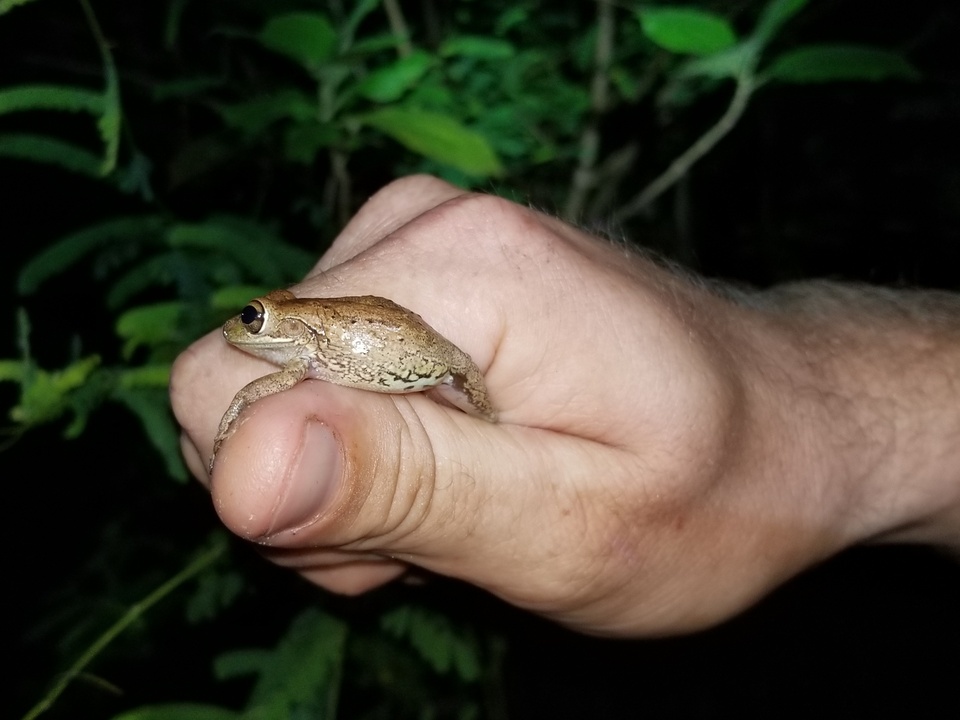 Many invasive reptiles came out at night, including this Cuban Treefrog.
Photo Credit: Caitlin Jarvis
This entire event was a lot fun, and we're excited for everyone's feedback to make the next one even better. We asked volunteers to fill out a survey about their experience in hopes of giving us feedback on the next one. Additionally, Mathieu presented the results on Tuesday to the Florida Master Gardeners which you can view here.
We again thank all volunteers from UF/IFAS, Florida Master Garderners, Florida Master Naturalist, and iNaturalist users helping to ID specimens. Thank you so much!
Matt