On August 5th-10th, I was at the Ecological Society of America 2018 Annual Meeting. I presented the latest results from my research on Wood Storks, was involved as a mentor in the SEEDS program, and did a demo on analyzing tracking data at the Data HelpDesk.
The 2018 ESA Annual Meeting was held in New Orleans, Louisiana. I was able to attend thanks to the UF Institute of Food and Agricultural Sciences and the Long-Term Studies Section of the ESA that both awarded me travel grants. I'm very grateful for the support I received!
This year, my ESA experience was particularly rich and eventful. For the first time, I was involved in the SEEDS program as a mentor. I mentored an undergraduate student from the University of Puerto Rico, Jesús Quiñones-Llópiz, for his first experience in attending an international meeting, and I helped him navigate the conference. I was grateful to be able to participate in this important initiative, which I think can be just as instructive for mentors as it is for mentees!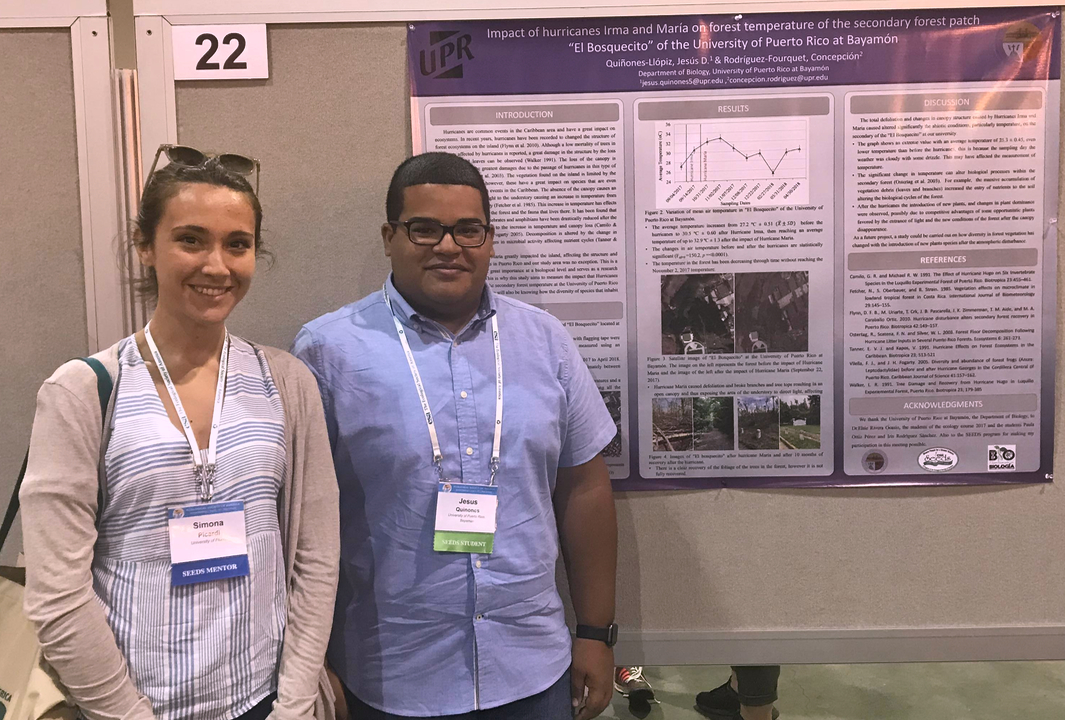 Simona and her SEEDS mentee, Jesús Quiñones-Llópiz, in front of his poster.
I was also involved with the Data HelpDesk initiative organized by EDI, ESIP, iDigBio, DataCite, Arctic Data Center and DataONE. We offered demos and tutorials on data management tools and techniques and individual-based assistance to anyone who stopped by the booth. My constribution was a 1-hour long beginner-friendly demo on how to handle wildlife tracking data in R.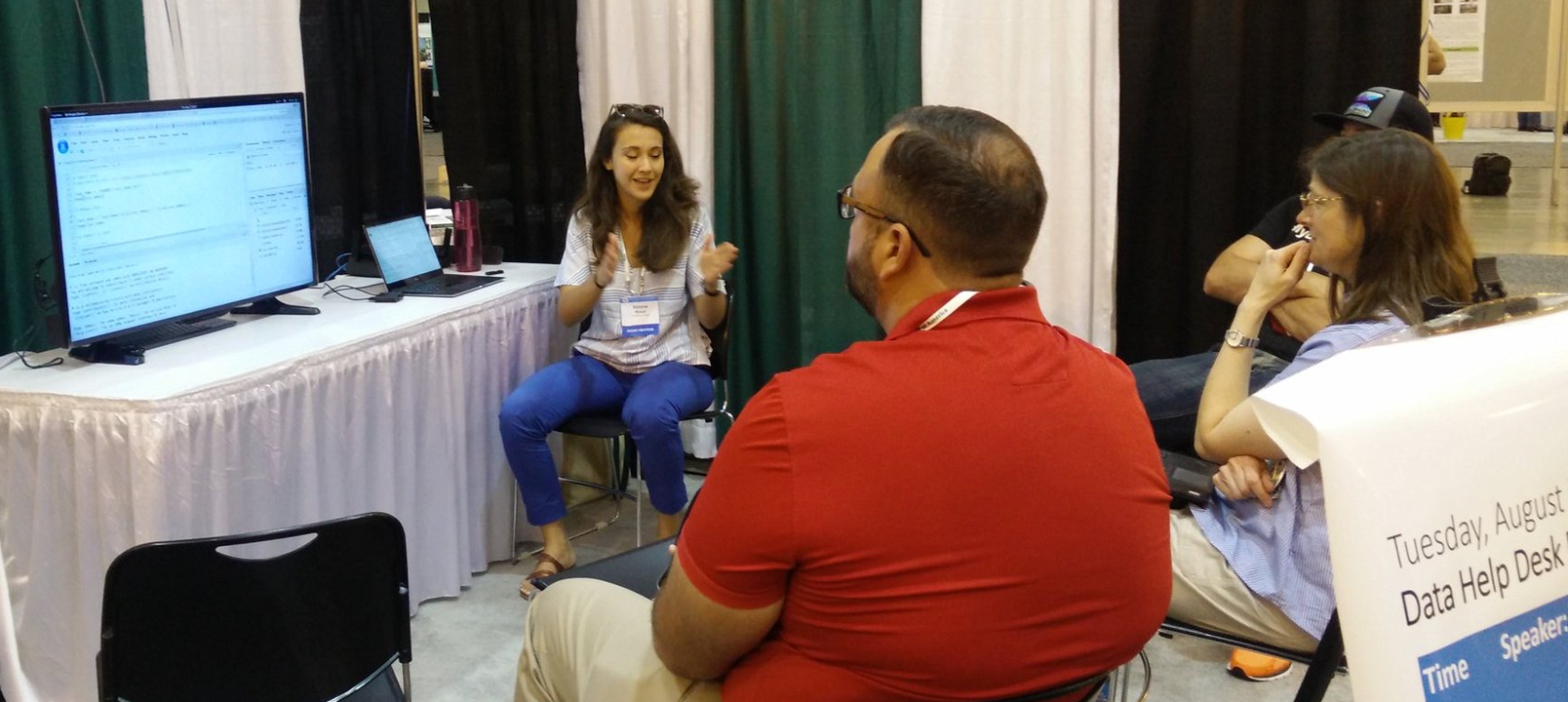 Simona giving a live demo in R at the ESA 2018 Data Help Desk.
Finally, I presented the latest results from my research on Wood Storks in the "Behavior - Migration and Movement" session on Thursday afternoon (abstract, slides, audio and video are available here). The study I presented provides the first individual-based description of Wood Stork large-scale movement patterns, and defines their status as partially migratory. Not only some individuals perform regular migrations between winter ranges in Florida and summer ranges across the southeastern U.S., while others stay resident in Florida year-round — I also found that a handful of individuals change behavior from one year to the next, migrating in some years but not in others. This is an interesting finding, because it suggests that Wood Storks are capable of behavioral plasticity when it comes to migratory strategies. Altogether, my results seem to suggest that partial migration helps Wood Storks thrive in an environment where resource distribution varies in space and time in unpredictable ways. However, to confirm this hypothesis, I'm going to have to look at how individual migratory choices relate to fitness… stay tuned for the next chapter!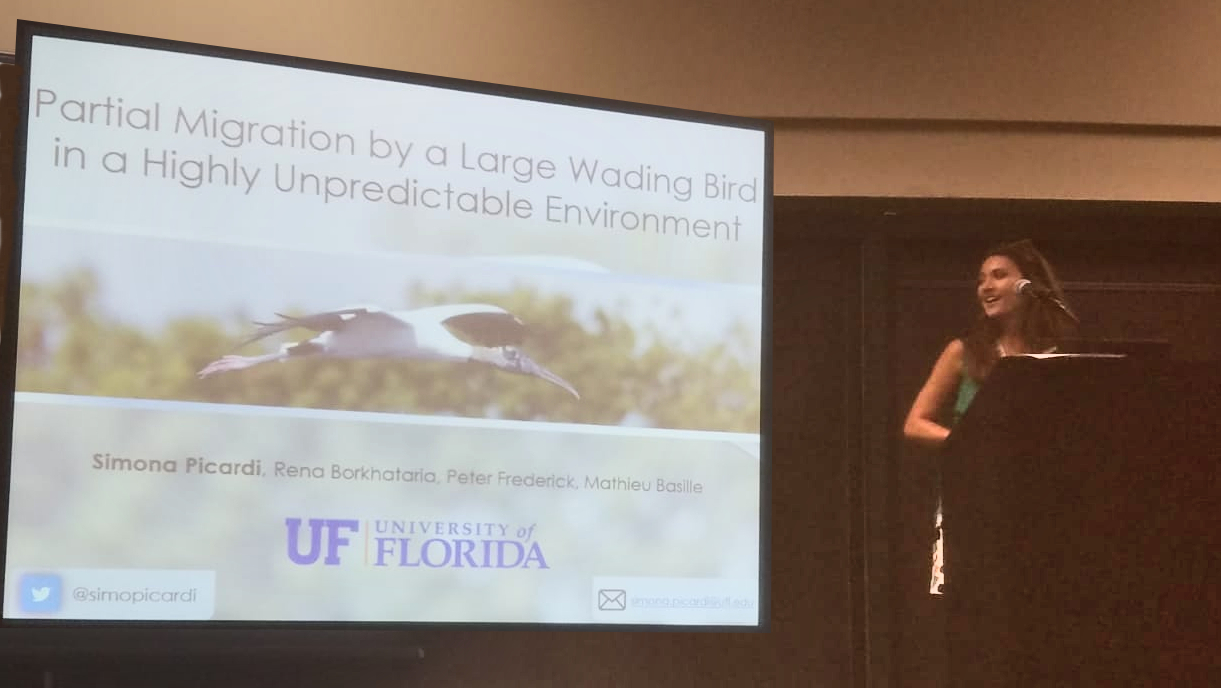 Simona starting her presentation at ESA 2018 in New Orleans.