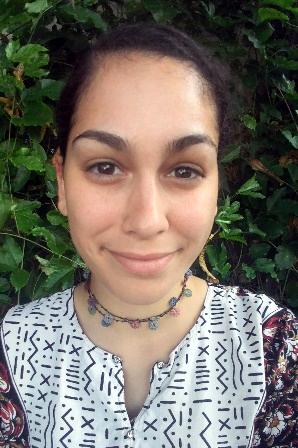 Valeria Guerrero came for an enriching and productive six-week internship in the MabLab in June 2018. Her work was to do an exhaustive literature search on raccoons to update the Raccoon Ecology Database from 2005 till 2018. Working on the raccoon literature review helped put into perspective how much research can revolve around an organism. When the focus shifted towards the study of home ranges, she needed to organize all the information given in the papers so that it could be easily accessible. One of the most rewarding aspects of this internship was meeting great people in the field of work and study she is entering. Her work was essential in preparing the raccoon poster for the 2018 annual meeting of the Ecological Society of America in New Orleans, LA.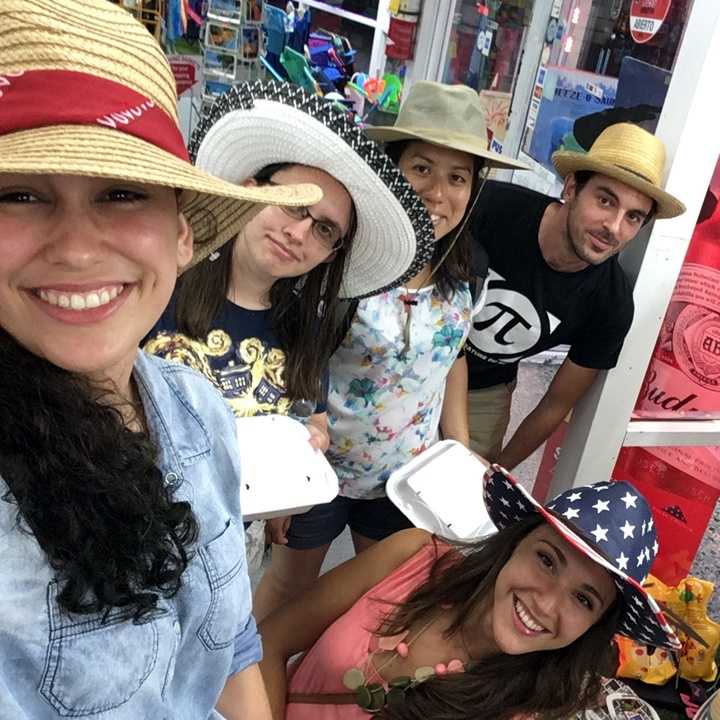 Valeria working hard in the MabLab.
Before that, Valeria worked with the Alachua Conservation Trust as a natural resource management intern. It was very labor intensive, but she learned about how to maintain land for the benefit of wildlife and human recreation. She also learned how to operate heavy machinery, like a chain saw to create fire lines in areas where forest met private lands.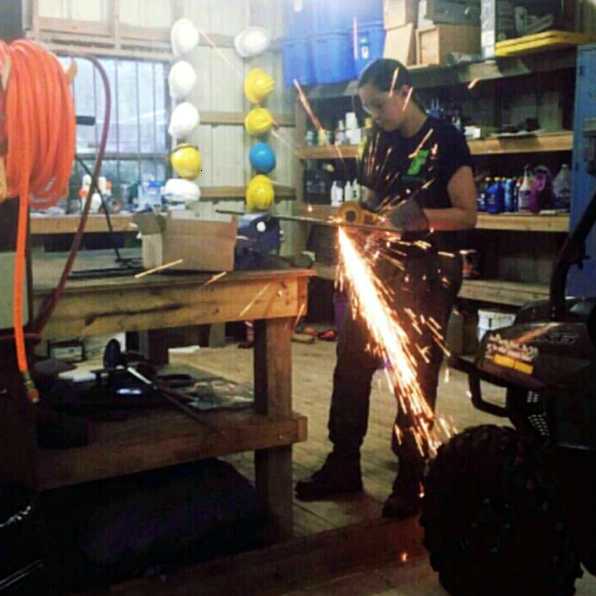 Valeria cutting metal.
Valeria attended Broward College for her Associates degree and would often pass by the Ft. Lauderdale Research and Education Center with curiosity. During her time in South Florida, she caught up with friends and family and was able to visit her favorite spot, Fairchild Botanical Gardens.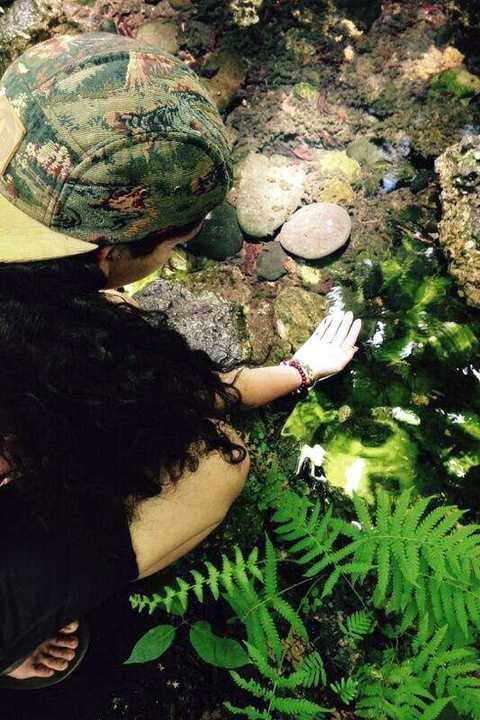 Valeria at the Botanical Gardens.
In December of 2018, Valeria graduated from the University of Florida with Cum Laude honors and a bachelor's degree in Wildlife Ecology and Conservation.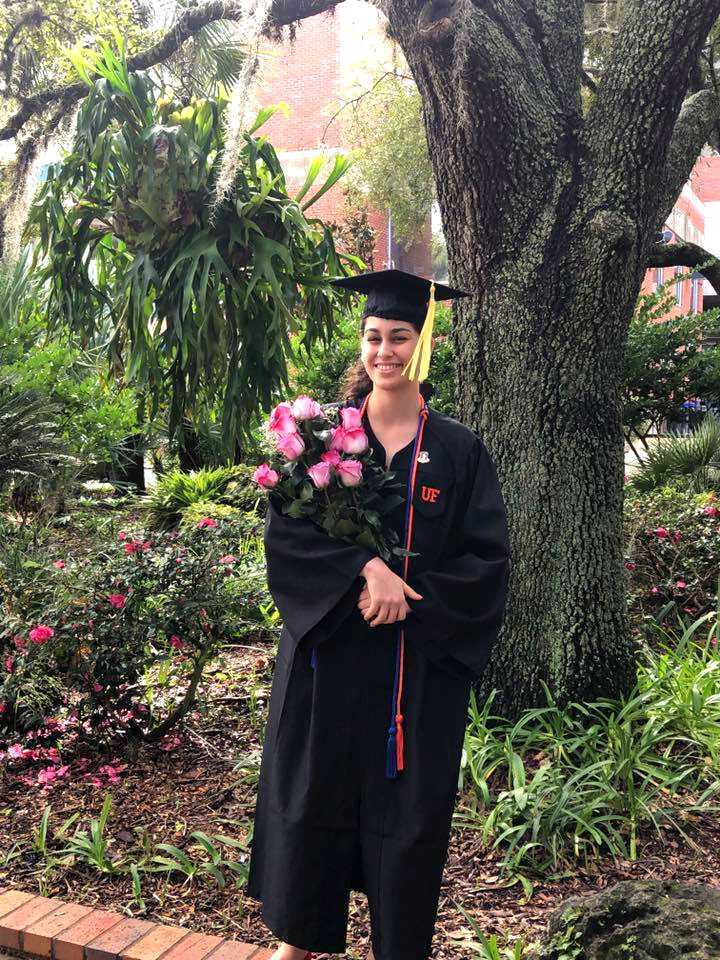 Valeria's mom had to take a picture with her next to this impressive Staghorn.
After graduating, she shadowed Carla Dove at the Smithsonian Natural History Museum's Feather Identification Lab. Valeria helped identify python prey remains for research being conducted by Christina Romagosa at the University of Florida. She created slides of the down feathers and analyzed their characteristics under microscope, then categorized the feather to be of a certain group of bird. Once she had a group, for example duck, she could then look at the feathers color and patterns to match the feathers to a specific species, like Blue-Winged Teal. This information is used to help understand what species are being preyed upon by pythons and how many.
Valeria also volunteered with USGS' NABat Acoustic Monitoring Program, through the University of Maryland. She set up the equipment necessary to capture data for a week in different areas of Ft. Washington, Maryland. She then collected the data for researchers to add to their database and keep records of North American bats across multiple spatial scales.
Valeria graduated with a Masters of Science from The University of Georgetown's Environmental Metrology and Policy programin May of 2021. She understands that even the most minuscule nuisances of ecology make huge differences in the environment. Threats usually originate from man-made sources, including chemicals and toxins that have not been researched enough to completely understand it's environmental or public health impact. Conservation focuses on addressing threats to the environment, finding its cause, then creating and or implementing effective solutions. Valeria looks forward to improving her ability to execute each step of conservation with the added ability of navigating policy and making the general public aware of our impact on the Environment with the skills and knowledge gained from this program.
More recently, Valeria has been working as the South Regional Gopher Tortoise Biologist for the Florida Fish and Wildlife Conservation Commission. She is responsible for processing and approving the gopher tortoise relocation permits for 14 counties ranging from Brevard to Monroe county, making sure all documentation and data is provided. She verifies surveys conducted by consultants and monitors recipient sites to ensure compliance. As the point of contact for the public, she is able to communicate necessary information about the Gopher Tortoise Management Plan, and provide technical assistance for the online permitting system. In addition to her work with gopher tortoises, Valeria assists the South Regional Biologist Ricardo Zambrano with surveys ranging from wading birds in West Palm Beach to reptiles in the Keys.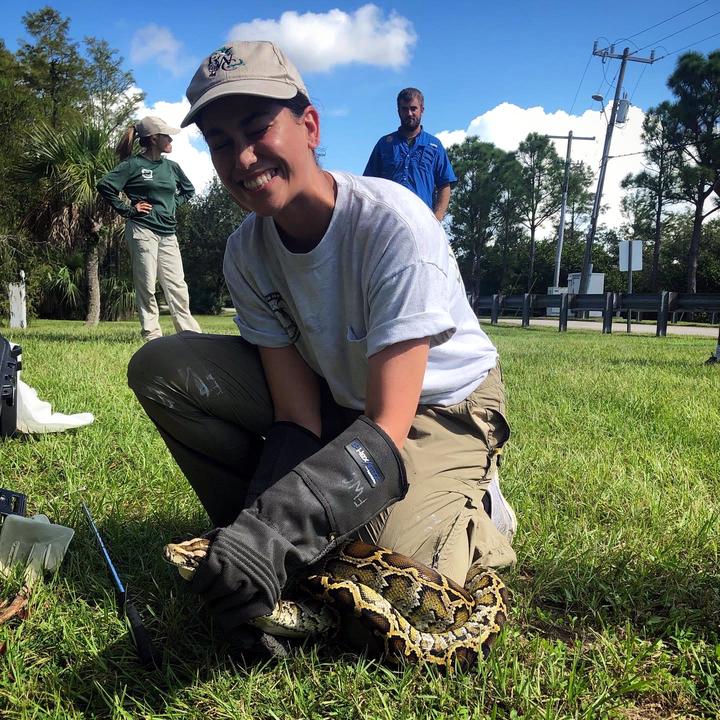 Valeria taking a python catching training through FWC.