Summary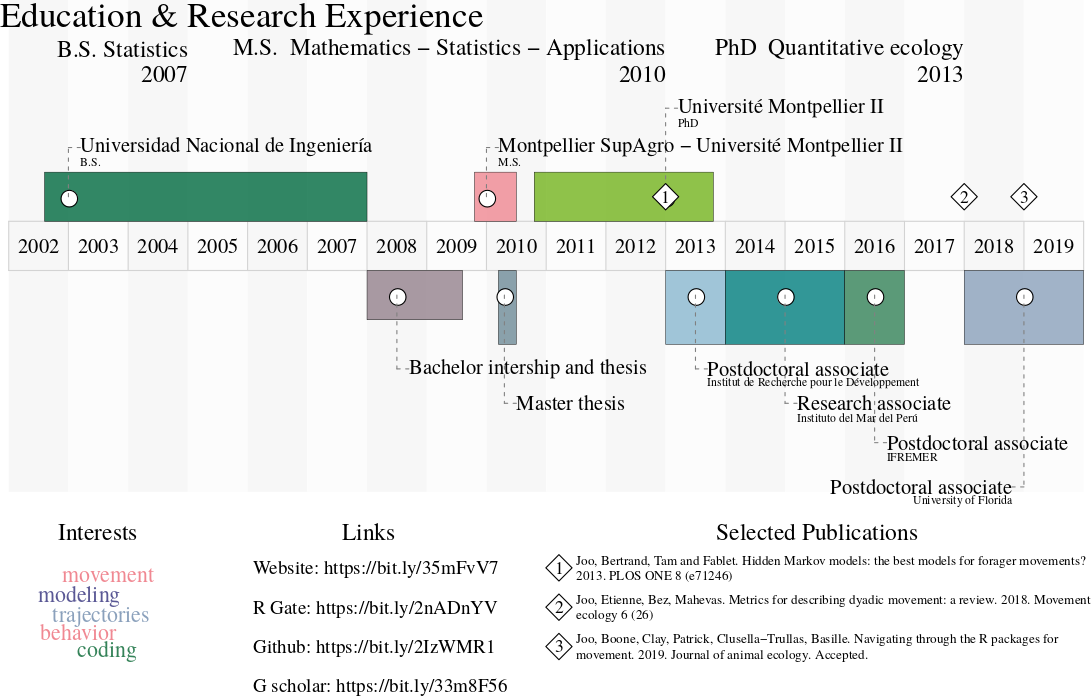 With a background in statistics, my research has been mainly focused on methods for the study of movement, mostly in fisheries and quite recently on seabirds (I'm excited to start collaborating on raccoons now, and not only for fieldwork!).
From the interactions not only with fisheries scientists and ecologists, but also with biologists, geologists, oceanographers, statisticians, computer scientists and signal processing experts, I have learned that interdisciplinarity is the key to move forward in science, and that multiple efforts have to be made to make communication flow and projects work. As a product of my travels (undergraduate and graduate training between France and Peru, postdocs in France and the US, the later in the Seabirdsound multinational project with people from The Netherlands, the UK and South Africa), I have also learn to consider the differences in cultures when working in a multinational team.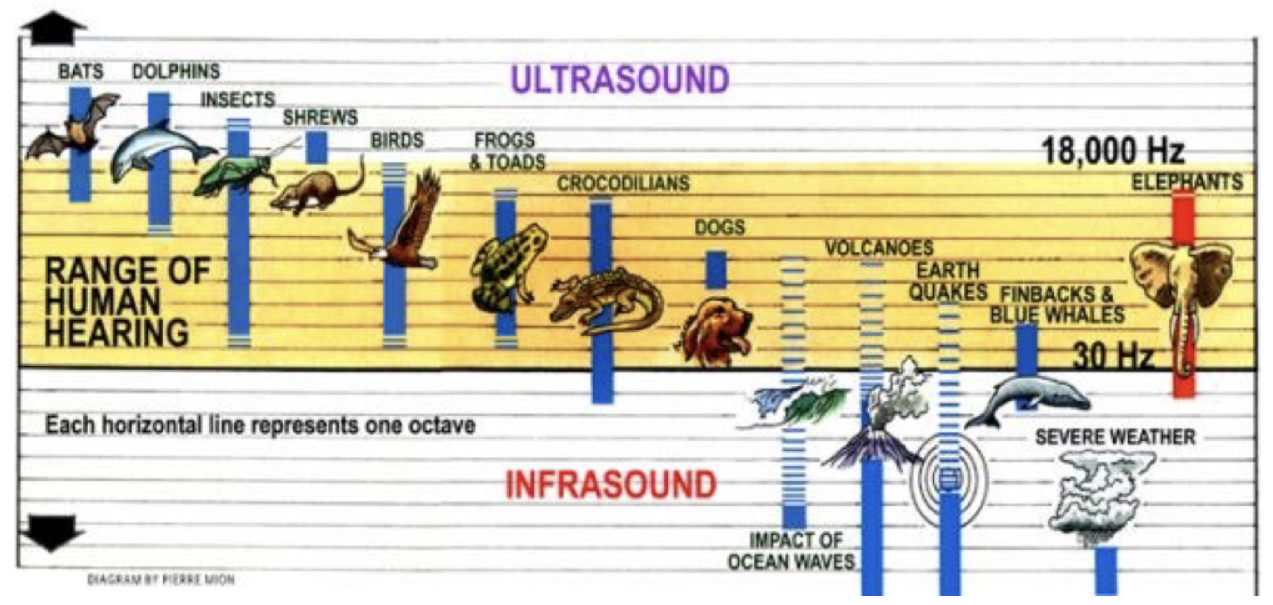 More details on my past and current research projects, groups, publications and students can be found below.
Recent available presentations
More presentations can be found here
Recent available publications
Research topics
Here are some of the topics I've been working on:
Machine learning and stochastic processes to identify behaviors within trajectories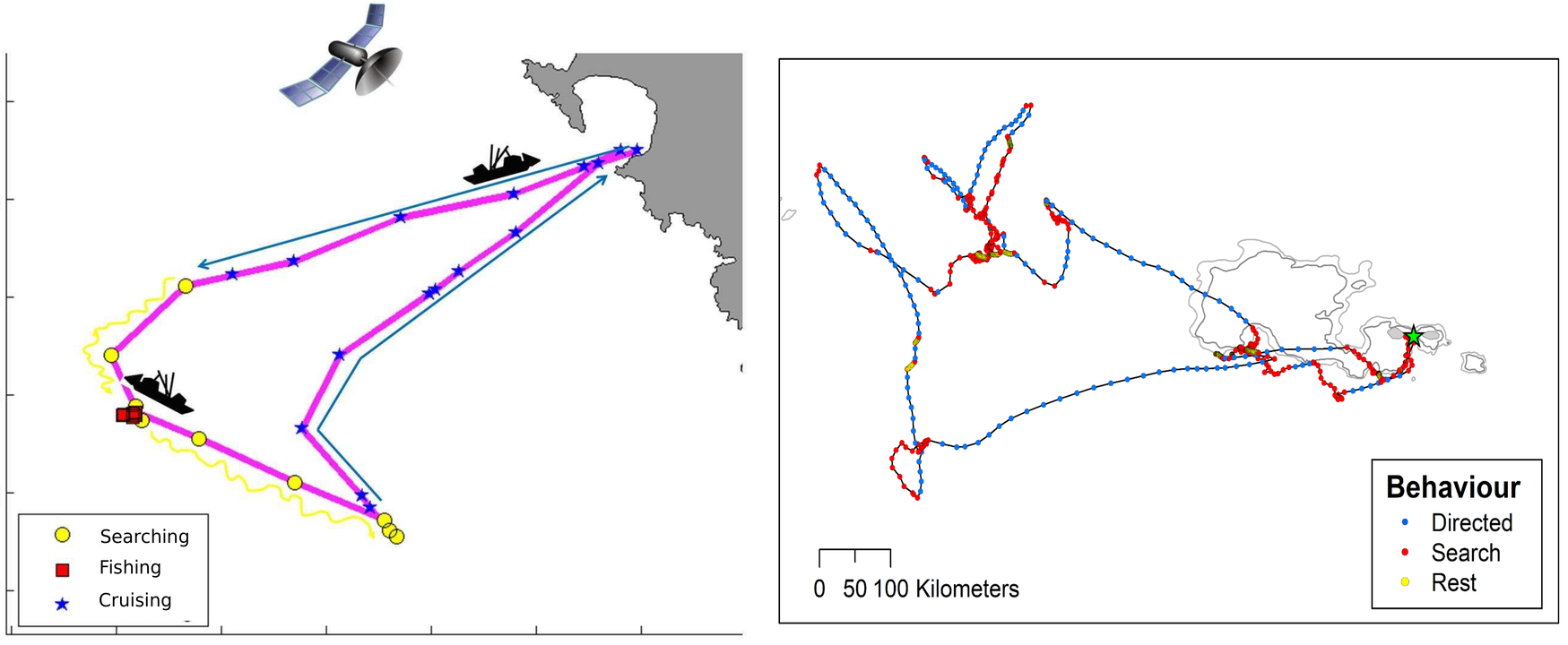 Multivariate analysis and geostatistics for fishing spatial effort
A mix of multivariate methods (e.g. principal components, coinertia, hierarchical clustering) allowed us to identify tactics and strategies in the Peruvian industrial anchovy fishery, and their associations to abiotic and biotic conditions (e.g. fish spatial distribution and abundance, sea surface temperature, oxycline depth, El Niño Southern Oscillation) as well as characteristics of the vessels and the fishers themselves (Joo et al. 2014 and 2015). For those studies, data from multiple sources were used (on-board observers, raw VMS data, behavioral modes obtained with HSMMs, acoustic data from scientific surveys and satellite data). It required interdisciplinary work with oceanographers, biologists and ecologists to understand the data and the processes in the ecosystem. Two undergraduate students, Marissela Pozada and Omar Salcedo, did their interships within the framework of this research.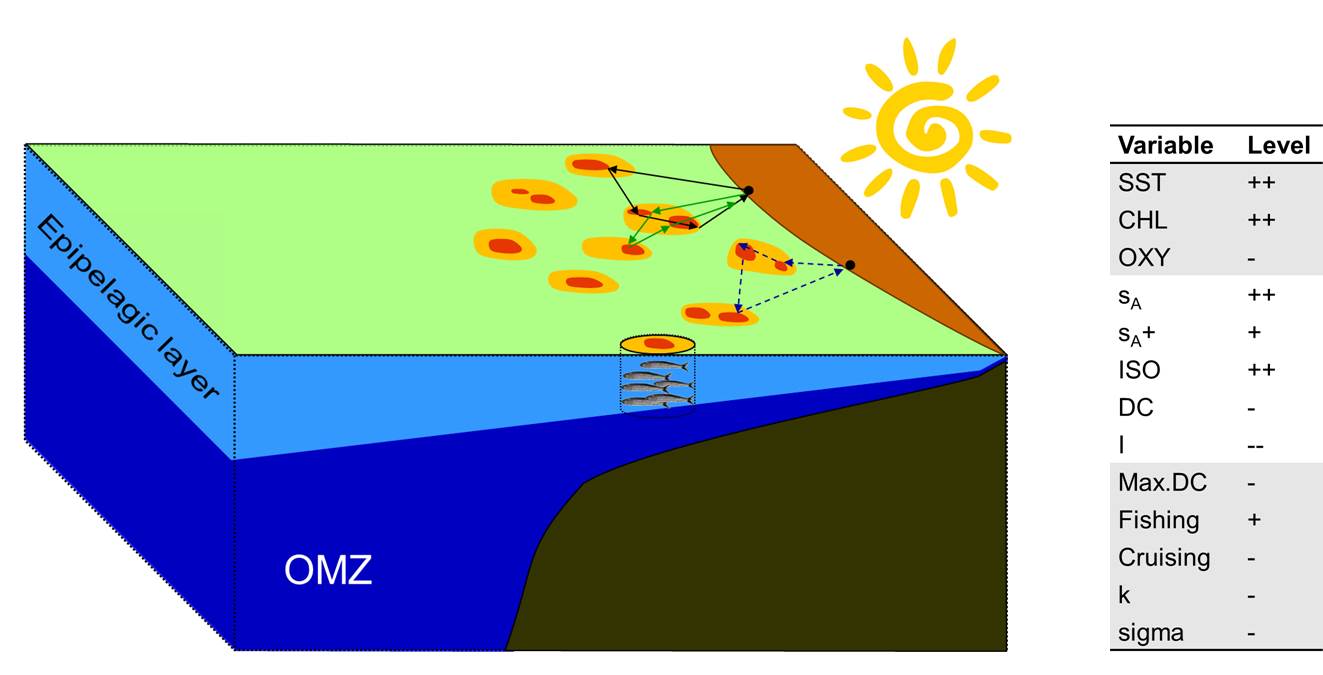 Spatial effort from a predator can be indicative of the relative abundance and spatial distribution of their prey. With that in mind, I used the behavioral mode information from anchovy fishers to build a proxy of anchovy presence. The activities were aggregated in space and time (cells of ~25 km, 1 month) and used for variogram fitting and kriging interpolation to obtain anchovy presence maps (Joo 2013 PhD thesis). Spatial descriptors were used to compare these maps to maps made from acoustic biomass of anchovy from concomitant scientific surveys (Camasca 2015, bachelor thesis under my supervision). Positive spatial covariations between the two random fields were obtained at coarse scales, but no conclusive results were observed for fine scales (article in prep.).
A generalized approach to the random walk debate for human and animal movement
There have been (and still are) multiple debates about the choice of the best random walk model for trajectories of organisms; mainly between Brownian motion and Lévy walk supporters. Generally speaking, the methodological (empirical) part of the debate consisted in comparing the goodness-of-fit of the tail of the distribution of step lengths to Gaussian or power law distributions (corresponding to Brownian and Lévy, respectively). Instead of comparing two possibilities, in Bertrand et al. (2015)), we proposed an approach that allowed the most plausible model emerge from the data, fitting the tail of the distribution of step lengths to a Generalized Pareto distribution that included Gaussian and power law as particular cases. The method was applied to Peruvian fishing vessel and seabird tracking data. The estimated parameters of scale and diffusion from the Generalized Pareto distribution provided information on the foraging strategies of each individual.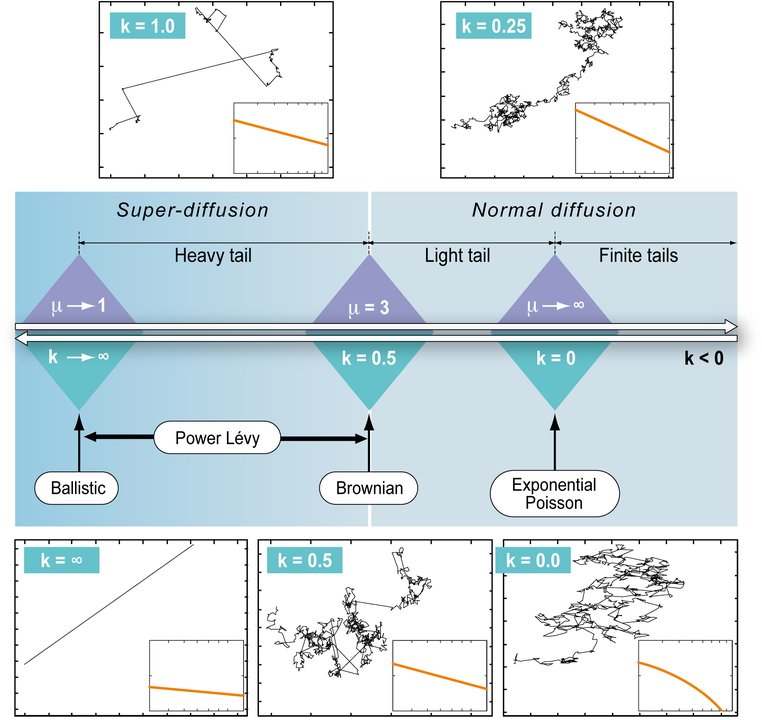 Metrics for assessing dyadic movement
From a review of collective movement literature, I identified that most data-driven works have relied on metrics that were not measuring what was intended, probably due to an absence of investigations on the theoretical properties of those metrics. During my postdoc at IFREMER, my collaborators and I focused on pairwise joint-movement behavior, where individuals move together during at least a segment of their path. We investigated the adequacy of twelve metrics introduced in the literature for assessing joint movement by analysing their theoretical properties and confronting them with contrasting case scenarios. Two criteria were taken into account for review of those metrics: 1) practical use, and 2) dependence on parameters and underlying assumptions. We also evaluated the ability of each metric to assess specific aspects of joint-movement behavior: proximity (closeness in space-time) and coordination (synchrony) in direction and speed. We found that some metrics are better suited to assess proximity and others are more sensitive to coordination (Joo et al. 2018).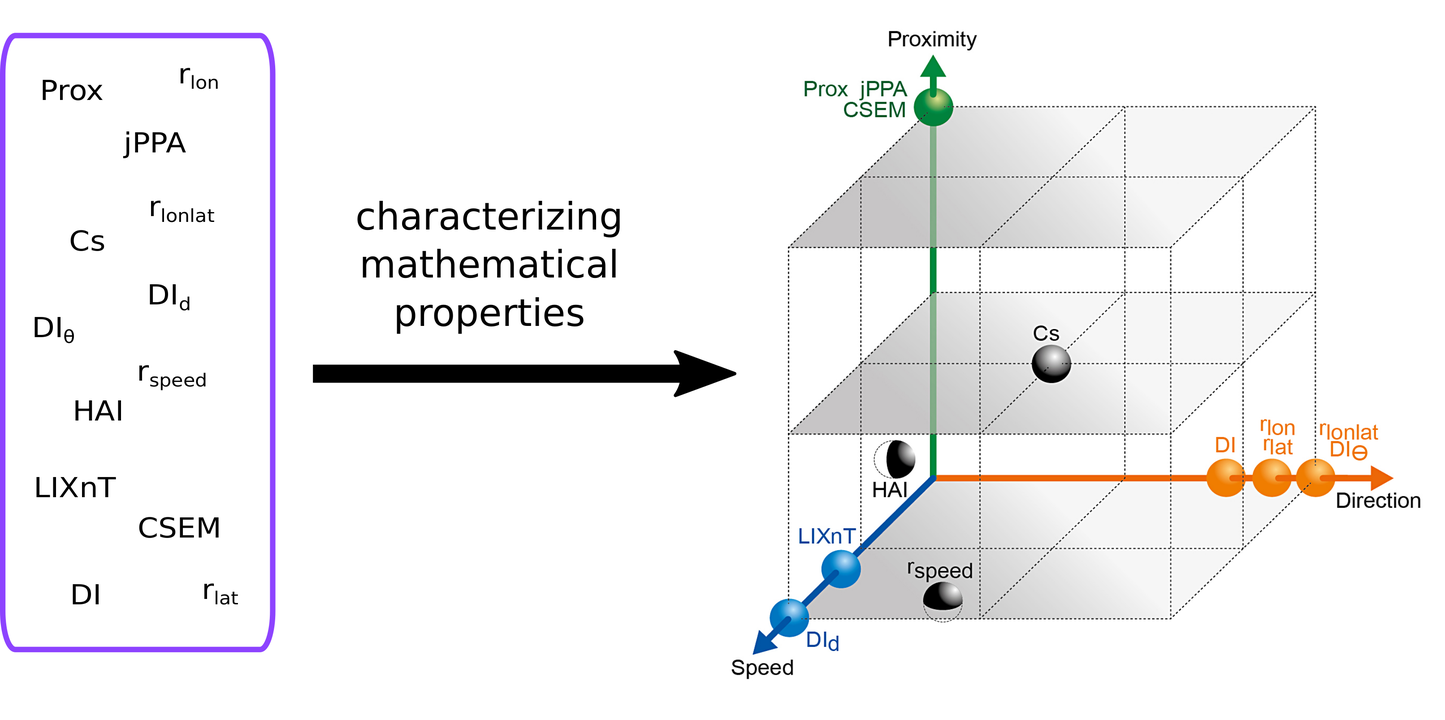 Based on this review, we selected a few metrics and used them to identify dyadic (i.e. pairwise) behavior in fishing vessels using VMS data from several fishing fleets around the world: pelagic and demersal trawlers in the English Channel and the Celtic Sea, pelagic purse-seiners in the Pacific Ocean, and pelagic purse-seiners in the Indian Ocean. For each case study, we applied the same standard statistical method to identify types of interactions (presented at ICES as Joo et al. 2018; article in prep.).
Tracking the field of movement ecology: current state of the field, trends and gaps
The field of movement ecology has experienced unprecedented growth in the last decade: technological advances have enabled a wide range of sensors to be used by ecologists, and analytical and programming tools have been developed to aid data processing and analysis. Aiming at a comprehensive view of the state of the field, I am currently leading a synthetic and quantitative review of the scientific publications in movement ecology. We focused on the ten-year time span between the formal introduction of the movement ecology paradigm by Nathan et al. (2008) and the end of 2018. We searched the Web of Science to select publications in the field of movement ecology by applying a hierarchy of keyword-based filters and obtained a database of 4417 peer-reviewed papers. We then used a text mining approach to extract text from the publications and assess the number of papers investigating the components of the paradigm (motion, navigation, internal state and external factors), the biologging devices used, the focal taxon, the analytical methods applied and the software used. This work aims at providing an overview of what has been achieved, the directions that are being taken in the field, and the questions, species or methods that are being neglected (presented at GRC as Joo et al. 2019; article in prep.).
In our review, we found that the most used programming software for movement analysis is the free open source R software. I, then, identified 59 R packages created for processing or analysis of tracking data. My collaborators and I reviewed and described each package based on a workflow centered around tracking data, broken down in three stages: pre-processing, post-processing and analysis (data visualization, track description, path reconstruction, behavioral pattern identification, space use characterization, trajectory simulation and others) (Joo et al. preprint). Links between packages were assessed through a network graph analysis and showed that one third of the packages worked on isolation, reflecting a fragmentation in the R movement-ecology programming community. We also provided recommendations for users to choose packages and for developers to maximize the usefulness of their contribution and strengthen the links between the programming community. Throughout this investigation we came to the realization that there is still a need for standardized R data classes for trajectory data, and we are currently working on a project to create a package for that purpose. The team of this project is mainly composed by developers of some of the R packages reviewed, and we plan to extent the discussions on the structure of the classes to the large community of developers and users, so that it can be relevant for all different types of tracking data.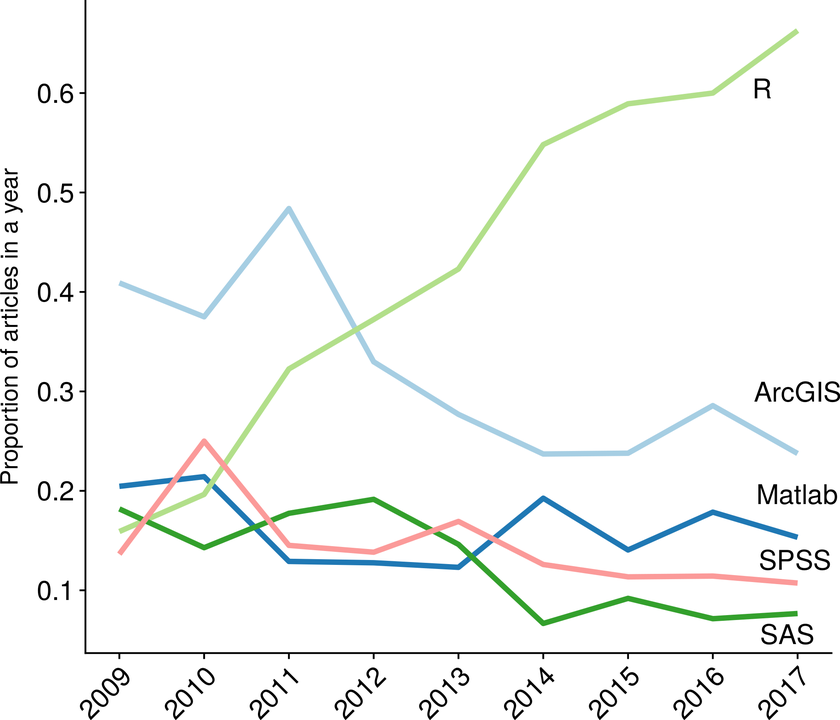 Research Groups and Projects
Groups
Projects